Philadelphia Inquirer's Lewis Katz dies in plane crash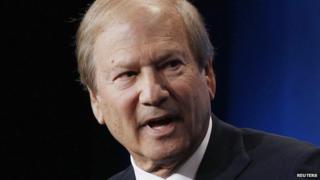 The co-owner of The Philadelphia Inquirer, Lewis Katz, has been killed in a plane crash near Boston.
The businessman was on board a private jet that burst into flames as it was trying to take off on Saturday night from Hanscom Field airport.
All seven passengers on the aircraft were killed. The cause of the crash is being investigated.
Mr Katz and his partner acquired full control of the Inquirer last week, promising to revive the newspaper.
He was also the co-owner of the Philadelphia Daily News and the news website, Philly.com.
A report on the Philadelphia Inquirer's website quotes Bill Marimow, the paper's editor, describing Mr Katz as "an exceptional man, whose presence enriched the lives of everyone he came in contact with".
"We've lost a great friend," he was quoted as saying.
Last week, Mr Katz and his partner, Harold HF Lenfest, paid $88m (£36m; 44m euros) to buy out the other owners of the company that operates the Inquirer.
They had vowed to fund in-depth journalism, retain Marimow as editor, and revive the struggling paper's fortunes.
Mr Katz formerly owned hockey and basketball teams in New Jersey.