'Explosives man' held after three-day manhunt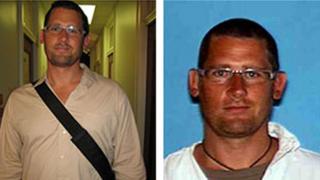 A social media consultant hunted by police for three days due to suspicions he possessed explosives is in custody.
Ryan Kelly Chamberlain II, 42, was arrested on Monday, police said, after they found his car near the Golden Gate Bridge in San Francisco.
FBI agents told CBS News the arrest was made without incident, following reports he was seen drinking in a bar.
The manhunt began on Saturday after police spent 14 hours searching Mr Chamberlain's San Francisco apartment.
Police asked the public for help in finding Mr Chamberlain, who tweeted on Monday that police claims he was dangerous were false.
'Nice guy'
"Anyone who has the means, methods and access to make a bomb should be considered armed and dangerous,'' FBI spokesman Peter Lee had said before the arrest.
"That is the reason why we want to bring him in safely soon."
He gave no further details about the nature of the investigation.
Friends and colleagues of Mr Chamberlain were said to be dumbfounded by the news he was wanted by the FBI.
"He's a nice guy," said Brooke Wentz, his boss at a music rights consultancy group, where Mr Chamberlain handled the company's social media accounts.
But he seemed to be under financial pressure, Ms Wentz added, because he told her that two friends who were renting his apartment had left without telling him.
Mr Chamberlain had worked for years as a political consultant on Democratic campaigns, his friend Randy Bramblett said.
Others said he was well known in the city's political circles and he had also worked on the San Francisco Chronicle.