Dan Marino withdraws injury lawsuit against NFL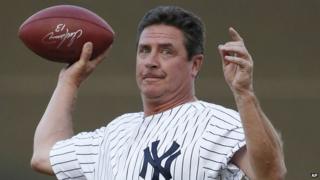 Legendary American football quarterback Dan Marino is withdrawing from a concussion lawsuit against the National Football League (NFL).
The 52-year-old, who retired from the game in 1999, said he hadn't suffered any head injuries and he was only listed as a plaintiff by mistake.
Marino was the best-known of 15 former players who last week filed a lawsuit in a federal court in Philadelphia.
The league has denied allegations it misled players about concussion risks.
More than 4,500 former players had previously sued the league, reaching a $765m (£490m) settlement last August, but that was rejected by a federal judge in January.
The withdrawal of a Hall of Fame legend like Marino will be a blow to the latest lawsuit, which seeks damages for "negligence [and] intentional misconduct".
In a statement, Marino said: "Within the last year I authorised a claim to be filed on my behalf, just in case I needed future medical coverage to protect me and my family in the event I later suffered from the effects of head trauma.
"I did not realize I would be automatically listed as a plaintiff... I have made the decision it is not necessary for me to be part of any claims or this lawsuit, and therefore I am withdrawing as a plaintiff."
He is sympathetic to other players who are seeking relief for head injuries they may have suffered, Marino added.
Marino played 17 seasons for the Miami Dolphins, retiring to work as a sport broadcaster for CBS.
Helmet-to-helmet impacts are common in American football as strong, heavy and fast-moving players collide on the field of play.
Studies have linked repeated concussions with chronic traumatic encephalopathy, a disease with symptoms including memory loss and mood swings.