Missing N American couple in 'Taliban' video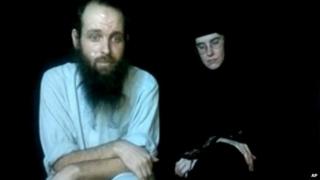 Family members of an American woman and Canadian man who went missing in Afghanistan in 2012 have released videos showing the couple captive.
Caitlan Coleman, sat next to Joshua Boyle, appeals to "my president, Barack Obama" for help.
The videos were emailed to Ms Coleman's family by an Afghan man months after she and Mr Boyle went missing.
The families of the captive couple said they decided to make the videos public because of Bowe Bergdahl's release.
They said their were disappointed the two were not freed as part of a prisoner swap deal that led to US soldier, Sgt Bergdahl, walking free at the weekend.
"It would be no more appropriate to have our government turn their backs on their citizens than to turn their backs on those who serve," Mr Boyle's father, Patrick Boyle, told Associated Press news agency.
The man who sent the videos said he had Taliban ties but in 2012 the Taliban said it was not involved in their disappearance.
"We do not know about these two foreigners," spokesman Zabihullah Mujahid said at the time.
US officials investigating the couple's disappearance consider the videos authentic but said they offer few clues to their whereabouts or, indeed, whether they are still alive.
Ms Coleman and the younger Mr Boyle were wed in 2011. Their families said they were well-intentioned but naive adventure seekers.
The couple went missing in October 2012 during a months-long trip that included stops in Russia, Kazakhstan, Tajikistan and Kyrgyzstan. Ms Coleman was pregnant and they were planning to return home before she gave birth.
The videos were emailed last summer by a Afghan man who told the families he had Taliban ties, but they have not heard from him for several months.
'No Guantanamo link'
In one recording, Ms Coleman appeals to the president.
"I would ask that my family and my government do everything that they can to bring my husband, child and I to safety and freedom," she says. Her child is not shown.
Mr Boyle was previously married to Zaynab Khadr, sister of the only Canadian to be held at Guantanamo Bay, Omar Khadr, who was transferred to Canadian custody in 2012.
But one US official told the Associated Press news agency investigators did not believe there was a link between the Khadrs and the kidnapping, calling it a "horrible coincidence".