Bowe Bergdahl: Town cancels welcome for freed US soldier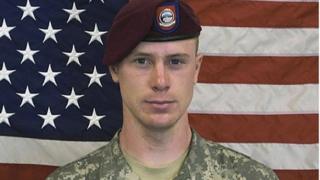 A welcoming party in the home town of a US soldier freed from Afghan captivity has been cancelled, amid suspicions that he deserted his post.
Organisers said the event in Hailey, Idaho, was cancelled for safety reasons, because of a large increase in the number of expected attendees.
Bowe Bergdahl was released on Saturday after five years in Taliban captivity.
Several commentators and soldiers have branded him a deserter and called for him to be punished.
The circumstances of Sgt Bergdahl's capture in 2009 remain unclear, although the Pentagon has concluded he left his post in Paktika Province without authorisation.
The town's annual "Bring Bowe Back" rally, calling for Sgt Bergdahl's release, was already scheduled for 28 June, but was changed to a homecoming party after he was freed on Saturday.
'Uncertainty'
But in a statement on Wednesday, the town authorities said organisers expected a dramatic increase in attendance because of national media attention.
"In the interest of public safety, the event will be cancelled", the statement said.
Authorities in the small town of 8,000 people said they had been inundated with messages of protest and complaint.
Police Chief Jeff Gunter told Reuters he received a phone call from a fellow police chief in Tennessee asking him: "'What the hell's your problem for supporting this deserter?'"
Joel Robinson, a volunteer chaplain with an organisation that supported the Bergdahl family told the BBC he was disappointed the event was cancelled, but "I can understand with the high level of uncertainty".
Mr Robinson said he had "no preconceived notion of guilt or innocence" about Sgt Bergdahl.
"I will wait for the judicial process to take its course. I wish other people would, too."
The release of Sgt Bergdahl in exchange for five senior Taliban figures from Guantanamo Bay has caused controversy in the US.
Critics of the deal have alleged that six US soldiers were killed in the initial efforts to locate the missing man.
The US Army has confirmed it will launch a review into the circumstances surrounding Sgt Bergdahl's capture in June 2009.
The US military's top-ranking officer, Gen Martin Dempsey, said on Tuesday that the Army would not ignore misconduct but that the 28-year-old was "innocent until proven guilty".
"When he is able to provide the facts, we'll learn what happened," he said.
President Barack Obama defended his decision to go ahead with the prisoner swap, saying America had a "pretty sacred rule" not to leave soldiers behind.
The soldier is currently in a military hospital in Germany undergoing rehabilitation. It is not yet known when he will return to the US.