Moncton shooting: Lockdown remains during manhunt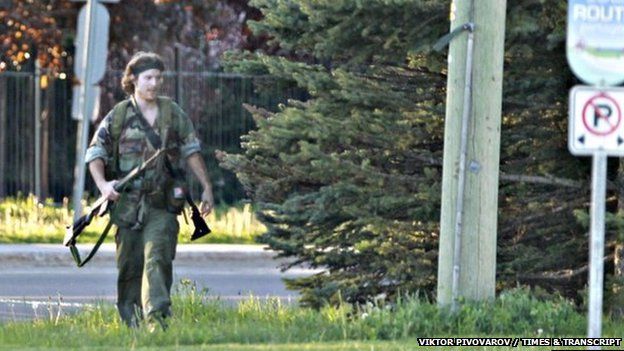 Parts of Moncton in Canada remain on lockdown as authorities hunt for a man accused of shooting five police officers, killing three, on Wednesday.
Officials say the suspect, Justin Bourque, 24, was spotted multiple times early on Thursday morning.
They have warned people to stay inside and lock their doors.
One of the wounded Royal Canadian Mounted Police (RCMP) has been released from hospital, and one remains in hospital in a stable condition.
It is the deadliest attack on the country's police force since four officers were killed by a gunman on a farm in the western Canadian province of Alberta in 2005.
Police said on Wednesday they still did not know where Mr Bourque was, but he was armed and dangerous.
RCMP Supt Marlene Snowman warned that the suspect was armed with high-powered firearms.
"He's not known to us, he's a young person," she said. "We're doing a complete investigation to learn as much as we can about him, about his history, what may have sparked this."
Supt Snowman said the RCMP was thankful for all the messages of support the force had received since the shooting.
"Our guys and gals are doing the very very best they possibly can and they have done exactly that in the past day," she said.
Police forces from around and outside the province of New Brunswick were contributing to the search, as well as special air support and canine search teams.
New Brunswick Premier David Alward said he felt "incredible grief" stemming from the incident.
The officers were shot while responding to a report of an armed man at the north-west side of the town at about 20:00 local time (23:00 GMT) on Wednesday.
"We opened up the windows in the family room and there he was going across through the back with this rifle on his shoulder," witness Joan MacAlpine-Stiles told Canadian media.
"I said, 'Oh my God, there he is with camouflage and the headband and a gun, and it looked like a bow he had with him."
Police established road blocks in an effort to seal a perimeter around the residential area and combed nearby woods, searching through the night and into the morning.
Schools in the town are closed, buses are not running, and postal service has been suspended.
Pedestrians and motorists have been asked to stay away from the area.
The suspect was spotted after daylight, but Supt Snowman warned he was "very mobile".
"There's no question that we're going to continue this search in order to apprehend him," she said.