Seattle Pacific 'hero' Jon Meis has wedding gifts paid for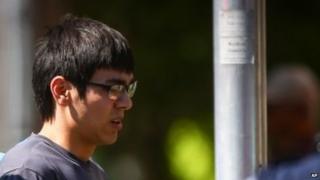 The US student who disarmed a gunman at his university on Thursday has had most of the gifts on his wedding registry paid for by well-wishers.
Jon Meis has been hailed a hero by the US media for stopping the gunman, who had killed one person and wounded three at Seattle Pacific University.
Mr Meis used pepper spray to subdue the attacker as he was reloading.
Police said his actions, and those of others who came to his aid, prevented a more serious tragedy.
The gun suspect has been named as Aaron Ybarra, 26, who was not a student at the university.
On Friday, a judge ordered that he should be held without bail on suspicion of first-degree murder and assault.
Admirer
American media have reported that as people learned of Mr Meis's bravery, and his wedding on 21 June, they wanted to thank him by buying gifts on the online wedding registry set up by him and his fiancee.
Links to the registry were circulated online, including a post on the social network Reddit reading: "This is the wedding registry for the man who subdued the SPU gunman. You know what to do."
Every item listed that could be bought online has since been purchased.
One admirer also launched an online campaign to pay for his honeymoon. The target on the site is $5,000 (£2,970) but it has already reached more than $8,000 (£4,760).
Mr Meis is said to be an electric engineering student. He was not injured in the shooting and reportedly carried pepper spray because of his part-time role as a university monitor.
The defence lawyer for Mr Ybarra has said her client suffers from "significant and long-standing mental health issues" and had been involuntarily committed in the past.
He allegedly told detectives after his arrest he wanted to kill as many people as possible and then himself.
He was carrying a shotgun and a knife when he walked into the foyer of the private Christian university on Thursday afternoon and opened fire.