Canada prisoners escape by helicopter from Quebec jail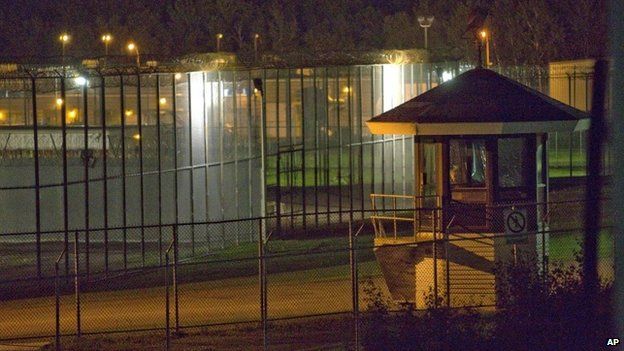 Three detainees have escaped from a jail in Quebec province by helicopter, police in eastern Canada say.
The helicopter swooped down late on Saturday and is believed to have flown off with the prisoners to the west, possibly towards Montreal.
The men were being held at the Orsainville detention centre, near Quebec City, pending their trial.
The public are being warned not to approach the men but to contact the police immediately if they see them.
It is the second jailbreak involving a helicopter in Quebec province in just over a year.
In March 2013, two inmates fled from a prison near Montreal by climbing up a rope into a waiting helicopter.
The missing inmates have been named by police as Yves Denis (35), Denis Lefebvre (53) and Serge Pomerleau (49), however there are no details of the charges against them.
CBC news said two of them were detained by provincial police in 2010 after a drugs bust known as Project Crayfish that led to dozens of arrests.
Spokeswoman Audrey-Anne Bilodeau said police were working with "partners like the airports of Quebec City and surrounding areas, the military bases and, of course, there's a ground search in the event that the helicopter is located."
Few details of the escape have emerged, but Ms Bilodeau said it appeared the green helicopter landed briefly, either inside or outside the gates of the detention centre, the Montreal Gazette reported.
The escape happened at about 19:45 local time (23:45 GMT) on Saturday.
Related Internet Links
The BBC is not responsible for the content of external sites.