Las Vegas killers were 'anti-police'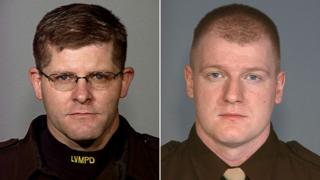 A couple who shot dead two police officers and a third man in Las Vegas acted out of hatred for the police and the government, authorities have said.
Jerad Miller, 31, and wife Amanda Miller, 22, who died at the scene, viewed law enforcement as "oppressors", said police.
The pair had been ejected from Cliven Bundy's Nevada ranch during a stand-off earlier this year, US media report.
The couple left a swastika and a "Don't tread on me" flag on the dead officers.
"We believe that they equate government and law enforcement fascism with Nazis," Clark County Assistant Sheriff Kevin McMahill told reporters.
"In other words, they believe law enforcement is the oppressor."
He added that he thought it was an isolated act.
---
What is the Gadsden flag?
Daniel Nasaw, BBC News, Washington
The suspects reportedly draped a Gadsden flag over the bodies of the slain police officers.
The flag, with its coiled rattlesnake on a yellow field and the motto "Don't Tread on Me", was designed during the 18th Century US revolution against Britain by South Carolina statesman Col Christopher Gadsden.
The flag flew on ships of the early US Navy, then for the subsequent two centuries largely receded into the background, a historical curiosity with no official US government standing.
After the 9/11 terrorist attacks, the flag re-emerged to represent a form of militant US patriotism - a nation poised to strike if threatened.
By 2009, the Gadsden flag was appropriated by the right-wing populist Tea Party movement.
Of course, the flag is not intended to rally people to violence.
But today, it unambiguously denotes aggressive conservative politics, suspicion of authority - especially President Barack Obama's government - and vehement opposition to taxation and gun control.
---
Wal-mart shootout
According to witness and police accounts, the two suspects entered Cici's Pizza restaurant about 11:30 local time (18:30 GMT) on Sunday, where Officers Alyn Beck, 41, and Igor Soldo, 31, were having lunch.
Mr Miller shouted, "This is a revolution", then shot the officers. One managed to return fire, but it was unclear whether his shots struck the assailants.
The officers were killed, and the suspects placed swastikas and a flag - known as a Gadsden flag - with Don't Tread On Me written on it over their bodies.
Then, the suspects moved on to a Wal-mart store nearby, where they shot dead a man identified as 31-year-old Joseph Wilcox. Mr Wilcox was carrying a concealed firearm and had attempted to intervene before he was shot, authorities said.
Las Vegas police officers swarmed to the Wal-mart and surrounded it, exchanging gunfire with the suspects.
The rampage ended when Mrs Miller - said to be suffering a gunshot wound - shot dead Mr Miller, then killed herself.
"Their only avenue was to take their own lives," Clark County Sheriff Doug Gillespie said on Monday.
Police have not officially indicated what the motive could be, but are exploring whether the pair subscribed to right-wing militia and white supremacist ideology.
Racist, anti-government views
They are also investigating the couple's role in a stand-off with government agents at a Nevada cattle ranch linked to Cliven Bundy earlier this year.
Mr Bundy, a rancher, was protesting against government attempts to round up cattle he was illegally grazing on federal land.
Jerad Miller wrote on Facebook he had been "kicked out" of the ranch due to his criminal history, while Mr Bundy's son told the Associated Press news agency they were ejected due to "conduct" problems, and described them as "very radical".
A video of Mr Miller being interviewed during the stand-off by a local affiliate of broadcaster NBC has also been uncovered.
"I feel sorry for any federal agents that want to come in here and try to push us around or anything like that," he said. "I really don't want violence toward them but if they're going to come bring violence to us, well, if that's the language they want to speak, we'll learn it."
Neighbours of the couple have told reporters the two had a reputation for spouting racist, anti-government views.
Beck, who was a father to three, had been with the police department since 2001.
Soldo, who joined the Las Vegas police in 2006, leaves behind a wife and baby, police told reporters.
His sister-in-law Colleen Soldo described him as a "great guy" who previously worked as a corrections officer.