Uganda's Sam Kutesa elected as UN General Assembly president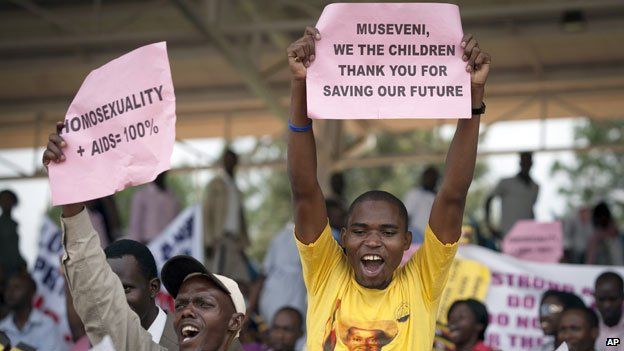 Uganda's foreign minister has been elected president of the UN General Assembly, over protests against his country's treatment of gay people.
Sam Kutesa, 65, was Africa's unanimous pick for the largely ceremonial role at the UN headquarters in New York.
More than 9,000 people have signed a petition urging UN states to block him, and a US senator said it would be "disturbing" if he took the role.
In February, Uganda passed a law punishing gay sex with life in prison.
It would be "disturbing to see the foreign minister of a country that passed an unjust, harsh and discriminatory law'' preside over the UN body, US Senator Kirsten Gillibrand told the Associated Press news agency on Tuesday.
It is Africa's turn to make the ceremonial appointment, reports the BBC's UN correspondent Nick Bryant, and Mr Kutesa represented the continent's unanimous choice.
Mr Kutesa, a lawyer and MP, has been Ugandan minister of foreign affairs since January 2005.
In his acceptance speech on Wednesday, Mr Kutesa said his unanimous election was a sign of trust and confidence in him and a recognition of Uganda's contributions.
He said the UNGA should focus on reducing poverty, fighting climate change and advancing gender equality.
"The scale and reach of most of the challenges we face, coupled with the limited capacity of many of those worst affected, requires that we address them collectively," he said. "The UN exists to find solutions through our combined efforts."
Earlier, more than 9,000 people signed an online petition urging UN member states and US Secretary of State John Kerry to block Mr Kutesa's appointment.
Human rights activists say the Ugandan foreign minister played a role in the enactment of Uganda's strict anti-gay law, passed in February, which allows for sentences of up to life in prison for those convicted of having gay sex.
Mr Kutesa, previously a junior investment minister, was also said to have been ousted from that position over charges he abused the office.
He has denied all allegations against him.
Uganda deputy foreign minister Okello Oryem told US media that opponents of Mr Kutesa's nomination ignore his "success stories" in the region.