US defence chief Chuck Hagel defends Bowe Bergdahl swap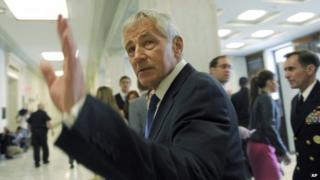 US defence secretary Chuck Hagel has defended the Obama administration's swap of Sgt Bowe Bergdahl for five Guantanamo Bay detainees.
Mr Hagel told a House panel the deal was "a tough call" by the president "but I support it and stand by it".
The White House has been criticised by Republicans and some Democrats over the swap late last month.
They object to not being warned of the deal and say the detainees are too dangerous to free.
"We've made America less safe, here and around the world," House Speaker John Boehner said on Tuesday. "And we're going to pay for this."
Mr Hagel appeared before the House Armed Services committee on Wednesday as part of a two-part briefing with both unclassified and classified sections.
"The president and I would not have moved forward unless we had complete confidence that we were acting lawfully, in the national interest, and in the best traditions of our military," Mr Hagel said.
He said Sgt Bergdahl's deteriorating health, as well as a warning from Qatar that "time was not on our side", made military officials move fast.
"We believed this exchange was our last, best opportunity to free him," said Mr Hagel, a Vietnam War veteran.
The defence secretary also said he and other national security officials were not "under any illusions about these five detainees" but said they were "appropriate" to release because the US had no basis to charge them with a crime.
They were "enemy belligerents"' but had not been implicated in any attacks against the US, he told the panel.
"And if any of these detainees ever try to rejoin the fight, they would be doing so at their own peril."
Sgt Bergdahl had been held captive since 2009. The Taliban officials had been at Guantanamo for more than a decade. Under the deal, they have to remain in Qatar for a year.
But some in Congress have harshly criticised the move.
In his opening statement the top Republican on the committee, Buck McKeon said the administration had made "a clear violation" of a law requiring 30-day notification of any Guantanamo prisoner release.
"This transfer sets a dangerous precedent in negotiating with terrorists," Mr McKeon said.
"It reverses longstanding US policy and could incentivise other terrorist organisations, including al-Qaeda, to increase their use of kidnappings of US personnel."
Mr Hagel responded to that charge by saying any leak would have scuppered the deal.
Sgt Bergdahl is currently in a US military hospital in Germany.