Liberals win majority in Ontario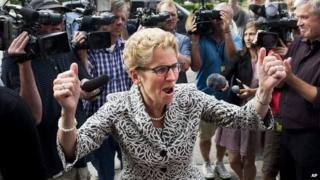 The Ontario Liberal Party has won a majority in the provincial legislature in a surprising result.
The party gained 59 seats out of a total of 107 during Thursday's elections after polls suggested a minority win for the Liberals.
Premier Kathleen Wynne, who took over last year after her predecessor resigned, was elected in her own right.
"You have put your trust in us and we will not let you down," Ms Wynne told her jubilant supporters.
Ms Wynne is now the first elected female leader of Canada's most populous province. She is also the first openly gay premier in Canada.
She has promised to ramp up spending to stimulate the economy and to create a provincial pension plan, all while cutting Ontario's deficit in three years.
On Thursday, she told supporters the government would move quickly to pass a budget that had been defeated last month.
Progressive Conservative leader Tim Hudak said he would resign as party leader after Thursday's vote, where his party won 27 seats, but continue to serve in provincial parliament. The New Democratic Party (NDP) won 21 seats.
And the Liberal win in Ontario has bolstered the party's hopes for the next national election in 2015.
"This election is an historic moment for the province," federal Liberal leader Justin Trudeau said in statement. "Ontario needs a partner in Ottawa, not an antagonist."