Bowe Bergdahl in a 'stable' condition in Texas hospital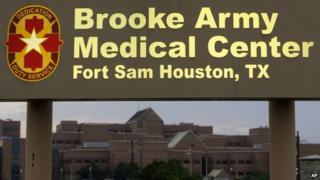 The US soldier freed last month after five years in Taliban captivity is in a stable condition in hospital in Texas, officials have said.
Sgt Bowe Bergdahl, 28, arrived in the US from Germany early on Friday and was taken to a military medical centre for the next part of his reintegration.
He "looked good", was in uniform, and saluted, Maj Gen Joseph DiSalvo said.
Sgt Bergdahl has not yet been in contact with his family, which officials described as his own choice.
"He appeared just like any sergeant would when they see a two-star general - a little bit nervous," Gen DiSalvo said. "But he looked good, saluted, and had good deportment."
'Returnee's choice'
Sgt Bergdahl arrived at about 01:40 local time (06:40 GMT) and was subsequently driven in a three-vehicle convoy to Brooke Army Medical Center at Fort Sam Houston.
Army officers also said Sgt Bergdahl had not yet been in contact with his parents, Robert and Jani Bergdahl, who are not in Texas.
"Family support is a critical part of the reintegration process," Army psychologist Col Bradley Poppen said.
"Overall, though it is a returnee's choice to determine when, where and who they want to re-engage with socially, and I believe the family understands that process at this point in time."
---
How to 'reintegrate' a returning POW
Taylor Brown, BBC News, Washington
In a press briefing about the US military's reintegration process, a defence department psychologist likened it to how one might take time to come to grips with a bad day at work before dealing with the responsibilities of home and daily life.
A prisoner of war has had his ability to make choices taken away during captivity, the psychologist said.
To ease him back into what would otherwise be an overwhelming series of decisions, military psychologists explicitly describe to returning captives what they can expect in the near future and when they will have to make choices.
"We start off by giving them the ability to predict," sometimes down to an hour-by-hour schedule, said the defence psychologist, who spoke on condition of anonymity.
---
In the near future, Sgt Bergdahl will work with medical staff on reintegration, the progress of which will be driven by the soldier himself.
"There is no set timeline," Maj Gen DiSalvo said.
The focus of reintegration will be on re-equipping the soldier, who is staying in a hospital room, with an "appropriate level of mental and physical stability to effectively resume normal activities with minimal physical and emotional complications", he said.
Col Poppen said, "What we are trying to do is get him to recognise that the coping skills he used to survive this long, five-year ordeal may not be healthy and functional now."
Call for prosecution
Sgt Bergdahl has not yet been made aware of the media coverage of the circumstances of his disappearance from a military base in Afghanistan in 2009 nor of the controversy over the deal that saw him exchanged for five senior Taliban commanders held at Guantanamo Bay, Cuba.
"Anything surrounding the controversy of his disappearance is not part of his reintegration," Gen DiSalvo said.
Shortly after Sgt Bergdahl's release, several commentators and soldiers came forward to brand him a deserter and call for him to be punished.
Critics of the prisoner swap, which include some Democrats, have objected to the fact Congress was not given notice of the deal. They say the Taliban detainees are too dangerous to free.
The Pentagon has concluded he left his post in Paktika province without authorisation but it is unclear if he intended to desert. The Army has said it will investigate the circumstances of his capture, leaving open the possibility he could be prosecuted for misconduct.
An Army review of the matter will take place after Sgt Bergdahl's treatment has finished, officials said.