Detroit 'mob beating' suspect pleads guilty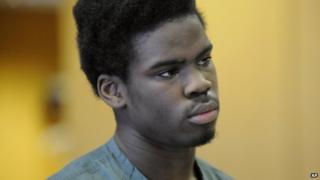 A teenager has pleaded guilty to a role in the mob beating of a driver who hit a young child in Detroit in April.
Bruce Wimbush, 18, admitted to punching Steve Utash, 54, in the jaw after Mr Utash accidentally struck a 10-year-old boy who stepped in front of his truck.
Wimbush pleaded guilty to assault with intent to do great bodily harm and faces up to 10 years in prison.
He also agreed to testify against three fellow defendants in the incident who have pre-trial hearings on Thursday.
"I hit him," Wimbush told the court. "I got emotional, and I let my anger take over."
'Hollerin' and screamin''
Wimbush is scheduled to be sentenced on 7 July.
Meanwhile, trials for fellow defendants James Davis, 24, Wonzey Saffold, 30, and Latrez Cummings, 19, are scheduled for late August.
The men have been charged with assault with intent to murder and assault with intent to do great bodily harm, and have pleaded not guilty.
Witnesses to the attack on Mr Utash on 2 April described a chaotic scene after he hit the boy and left his lorry to check him.
"They were hollerin' and screamin', 'Oh, my God, get him, get him'," witness Deborah Hughes said earlier.
Racially motivated?
Ms Hughes, who is credited with intervening and ending the beating, said Mr Cummings kicked Mr Utash at least 10 times.
Another witness, Ashley Daniels, said Mr Utash stumbled after some early blows and was dared to pick up his hat, which had fallen off.
"He fell. He got up again," she said. "It was like he was almost accepting it."
Mr Utash was put in hospital with severe injuries and remained unconscious for several days after the attack. The young boy he hit suffered a leg injury.
Mr Utash's son earlier told a local radio station he believed the attack was racially motivated. Mr Utash is white and the alleged attackers are black.
Detroit, a sprawling but increasingly empty city which recently filed for bankruptcy, has seen a 40% reduction of police staffing in the past 10 years. The city's police chief told residents earlier this year that arming themselves could help deter crime.