Police arrest suspect in Arizona church attack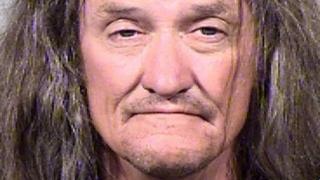 Police in Arizona have arrested a suspect in the killing of a priest in an attack on a Roman Catholic church.
Gary Michael Moran, 54, is being held on suspicion of first-degree murder, burglary and armed robbery.
Court records indicate Mr Moran served eight years in prison for aggravated assault and was released in April.
The Reverend Kenneth Walker, 28, was shot and killed. The Reverend Joseph Terra, 56, was severely beaten, but gave a description of the attacker.
Moran was sentenced to 10 years in prison in 2005 for entering the apartment of a stranger and stabbing the man without provocation.
While in prison, Moran was also found guilty of more than a dozen crimes, including drug manufacturing and possession.
Father Terra, who administered Last Rites to Father Walker, called authorities to report a burglary at the Mother of Mercy Mission in Phoenix at about 21:00 local time on Wednesday.
Police later said Father Terra was so badly beaten it was feared he would not survive, but he was transferred out of a hospital intensive care unit on Saturday and is expected to make a full recovery.
A car belonging to Father Walker was later found abandoned several blocks from the church after the crime.
Authorities said they were able to recover forensic evidence from the automobile.
Meanwhile, a requiem Mass was held on Monday morning for Father Walker at another Catholic church.