US opens Bowe Bergdahl investigation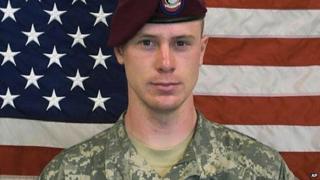 The US military has opened an investigation into the circumstances surrounding Sgt Bowe Bergdahl's disappearance from an Afghan outpost.
The Army has appointed Maj General Kenneth Dahl, who served in combat in Afghanistan, to lead the investigation.
Sgt Bergdahl returned to the US after five years in captivity on Friday.
Shortly after his release, several commentators and soldiers came forward to brand him a deserter and call for him to be punished.
The Pentagon has previously concluded Sgt Bergdahl walked off base in Paktika province without authorisation, but officials have not determined whether he intended to desert.
Sgt Bergdahl, 28, was flown from a military hospital in Germany to Brooke Army Medical Center in Texas on Friday, where he will complete the final phase of the reintegration process.
He was released by the Taliban in late May in exchange for five Guantanamo Bay detainees, a move that has been criticised by some lawmakers in the US.
In a statement, the defence department said Maj Gen Dahl would have access to evidence gathered in 2009 shortly after Sgt Bergdahl was captured.
But officials will not be able to interview him until a team working on his "reintegration" will allow it.
"We ask that everyone respect the time and privacy necessary to accomplish the objectives of the last phase of reintegration," the department said in a statement, adding there is no timeline for wrapping up the investigation.
On Friday, Maj Gen Joseph DiSalvo said the Army sergeant "looked good" as he returned to Texas and was in uniform and saluted.
At that time, he said, Sgt Bergdahl had not yet been in contact with his family, which officials described as his own choice.