US celebrates dramatic World Cup win over Ghana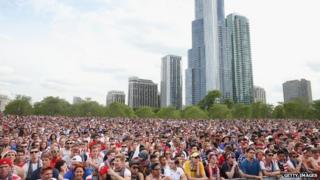 It's not a country renowned for its love of "soccer" but football fans across the US celebrated a last-gasp win against the team's World Cup nemesis, Ghana.
John Brooks headed in a late winner for USA in a dramatic finale to their opening Group G game in Natal.
It went a long way towards making amends for being knocked out by Ghana in the last two World Cups.
Supporters across the US planned to party well into the night.
"It's a great moment," Brooks said of the win.
US team captain Clint Dempsey - who scored the fastest goal in his nation's World Cup history at 29 seconds in - heralded the victory.
"Everybody played their hearts out."
Team fans streamed jubilantly into New York's city streets after the game, cheering loudly.
"It's like a Who concert and a Beatles concert combined," celebrant James Cannon told the New York Post.
Fan Julianne Naso was one of hundreds gathered at a New York sports bar to watch the game.
"People erupted after that first goal," she told the newspaper. "We have some momentum now. Hopefully, we keep it going."