US Marine Cpl William Carpenter receives Medal of Honor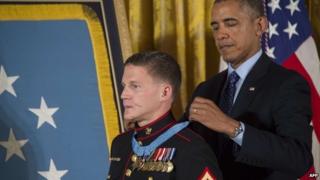 US President Barack Obama has awarded the Medal of Honor to a marine who rushed towards a live grenade to shield a comrade during a Taliban attack.
Mr Obama honoured 24-year-old Cpl William Kyle Carpenter's actions in the face of "certain death".
He was severely injured, losing an eye and suffering a collapsed lung.
"If any American seeks a model of the strength and resilience that define us as a people… I want you to consider Kyle," said Mr Obama.
Mr Obama began the ceremony at the White House by noting Cpl Carpenter was part of the "surge" troops he ordered in the early days of his presidency.
In November 2010, Cpl Carpenter and his squad were patrolling in Helmand province when they came under attack.
Cpl Carpenter - an automatic rifleman - was holding a position on a rooftop with comrade Lance Cpl Nicholas Eufrazio when a grenade was thrown at them.
Cpl Carpenter moved toward the grenade and his body took the majority of the blast. Lance Cpl Eufrazio was also severely wounded.
His fellow soldiers found him face down, his helmet riddled with holes and gear melted, but as he fell unconscious, he asked him Cpl Eufrazio was okay, Mr Obama said.
He woke up five weeks later from a coma. Cpl Carpenter's jaw and numerous other bones were shattered, his right eye was destroyed, and he had suffered a collapsed lung.
After two and a half years in hospital, Cpl Carpenter was medically retired from the Marine Corps in July 2013.
During the medal ceremony, Mr Obama said Cpl Carpenter, a full-time student at the University of South Carolina, should not only be honoured for his heroic actions, but also for "his valour since", during his long recovery.
"I want you to consider what Kyle has endured just to stand here today," he said.
"More than two and half years in the hospital, gruelling rehab, brain surgery to remove shrapnel, nearly 40 surgeries... multiple skin grafts. He has a new prosthetic eye, a new jaw, new teeth and one hell of a smile."
Mr Obama also honoured Cpl Carpenter's medical team, who attended the ceremony and who Cpl Carpenter had told Mr Obama "put me back together well".
"Going from toting a machinegun in Afghanistan… to using a bed pan, and I can't even put my own socks on - that was hard to kind of suck it up," Cpl Carpenter, now 24, told a Marine Corps website.
"I look back and I'm actually very appreciative I had those two and a half years because those years put things in perspective more than a whole lifetime of things could if I wasn't there."
He is the eighth living veteran of Iraq or Afghanistan to be awarded the nation's highest military decoration.