US Presbyterians to allow clergy to perform gay weddings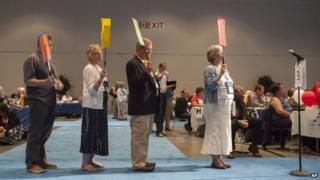 The largest Presbyterian church group in the US has voted to allow its clergy to perform same-sex weddings.
The Presbyterian Church (USA) also approved a change to the church's constitution that says marriage can be a union of "two people".
But the latter vote will need to be approved by regional groups.
The church, which has about 1.8 million members, lost more than 400 of its congregations after it voted to ordain gay clergy in 2011.
Nineteen US states and the District of Columbia recognise same-sex marriage.
The vote came after debate during the church's week-long annual General Assembly.
The Rev Krystin Granberg of the New York Presbytery, where gay-unions are recognised, said she receives requests "all the time" from friends and parishioners to preside at their weddings.
"They want to be married in the church they love and they want me to do it," Rev Granberg said during the debate. "I want pastoral relief."
Others urged the church body to delay changes.
"We are laying hands on something that is holy, that God has given us, so we need to be sure any changes we make are in accord with God's will revealed in Scripture," Bill Norton, of the Presbytery de Cristo, which covers parts of Arizona and New Mexico, said.
The final vote on presiding over gay marriages was 371-238. The change will come into effect on Saturday but local congregations will have the choice whether to host same-sex marriage ceremonies or not.
A separate vote approved changing language regarding marriage in the Church's Book of Order by a 429-175 vote.
The new text reads: "Marriage involves a unique commitment between two people, traditionally between a man and a woman." The original passage says: "Marriage is a civil contract between a man and a woman."
That change will require the approval of a majority of the 172 regional presbyteries, in a vote to be held over the next year.
The conservative Presbyterian Lay Committee declared the votes an "abomination".
"The General Assembly has committed an express repudiation of the Bible, the mutually agreed upon Confessions of the PCUSA, thousands of years of faithfulness to God's clear commands and the denominational ordination vows of each concurring commissioner," the committee said in a statement.