CDC: Possible US anthrax cases rise to 84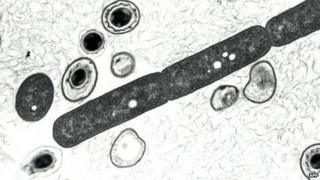 The number of health workers potentially exposed to anthrax has risen to 84, the US Centers for Disease Control and Prevention (CDC) has said.
The count of those at risk of illness has risen from the 75 initially reported on Thursday.
The US health agency said researchers in a high-level biosecurity laboratory failed to follow proper procedures and did not inactivate the bacteria.
The exposure occurred in Atlanta at the weekend, the CDC has said.
The FBI has told the BBC it is helping the CDC to investigate.
The agency said it was too early to determine whether the transfer was accidental or intentional.
Symptoms of anthrax exposure include skin ulcers, nausea and vomiting and fever, and can lead to death.
---
What is anthrax?
Anthrax bacteria live primarily in inactive spores and are found naturally in the soil, but people can ingest or inhale spores, which can make the anthrax active.
Not everyone will fall sick when exposed to anthrax but left untreated, anthrax illness can turn very serious or lead to death.
Tests to confirm anthrax exposure include a blood swab.
Anthrax entered the US national consciousness in 2001, when shortly after the 9/11 attacks, letters containing powdered anthrax arrived at news organisations and the offices of US senators. Twenty-two people became ill and of those, five people died.
Sources: FBI Anthrax investigation; CDC, San Francisco Department of Public Health
---
In a statement, the CDC said the anthrax samples were moved from a high-security lab to a lower-security one at their Atlanta headquarters.
"Workers, believing the samples were inactivated, were not wearing adequate personal protective equipment while handling the material," the agency said.
"The unintentional exposure was discovered June 13 when the original bacterial plates were gathered for disposal and B. anthracis colonies [live bacteria] were found on the plates."
The normal incubation period for anthrax illness can take up to seven days, but there have been cases of illness occurring as many as 60 days after exposure.
Fifty-four of the 84 identified employees had been treated at the CDC's health clinic by Thursday morning, with two refusing a course of antibiotics. Twenty-seven employees also began the anthrax vaccine.