'Huge' settlement in New York Central Park jogger case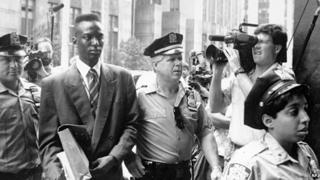 Five men wrongfully convicted in the brutal 1989 rape of a jogger in New York's Central Park have settled a lawsuit against the city for $40m (£24m).
The racially charged case shocked the city during some of its bleakest years.
The sum must still be approved by the city's comptroller and a federal judge.
The men, teenagers when the crime was committed, served 7-13 years in prison before their exoneration in 2002 when evidence pointed to another man.
Fears of 'wilding'
The victim, a white 28-year-old investment banker, was severely beaten, raped and left for dead in a bush. She had no memory of the attack.
Local youths Raymond Santana, Kevin Richardson, Antron McCray and Yusef Salaam and Korey Wise, then aged 14-16, were arrested and interrogated for hours without access to lawyers or their parents.
They made confessions, and although they soon recanted and other evidence indicated they had been elsewhere when the woman was attacked, they were convicted and sentenced to years in prison.
The crime, occurring well before New York's current renaissance began in the mid-1990s, shocked the city and provoked fears of gangs of black teenagers going on crime rampages - "wilding", the media called it.
In 2002, an investigation by the Manhattan prosecutor determined a serial violent offender named Matias Reyes had confessed to the attack and said he acted alone.
In their legal action, the men accused New York prosecutors and police of false arrest, malicious prosecution and a racially motivated conspiracy to deprive the men of their civil rights.
The proposed settlement, which has not been officially announced by the city but was reported widely by local newspapers on Thursday and Friday, would amount to about $1m (£588,000) per year in prison for the men.