Sgt Bowe Bergdahl moved to outpatient care on Army base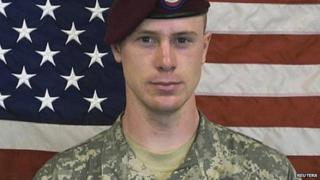 The US soldier held captive for five years by Taliban-linked militants has moved to outpatient care on a Texas military base.
Sgt Bowe Bergdahl will no longer be in hospital all day, but specifics of his location will not be made public.
"His reintegration process continues with exposure to more people and a gradual increase of social interactions," an Army spokesman said.
He has not spoken about his ordeal publicly since his release on 31 May.
Sgt Bergdahl, 28, was swapped for five prisoners in a US military prison in Guantanamo Bay, Cuba, a move that sparked a heated political row.
Fellow soldiers have also argued Sgt Bergdahl knowingly wandered away from his unit while deployed in Afghanistan in June 2009.
The US has opened an investigation into his disappearance, but has said they will not interview Sgt Bergdahl until he is finished with the reintegration process.
He arrived at the US military base near San Antonio on 13 June, after a period of recovery at a military hospital in Germany.
In short statement, the Army said he continued to be counselled by psychologists on the military base in San Antonio "to ensure he progresses to the point where he can return to duty".
In their last update, Army officials said Sgt Bergdahl had not yet been in contact with his family, which they described as his own choice. It is unclear if Sgt Bergdahl has now spoken to his family.