Kidnapped baby in Texas found by jogger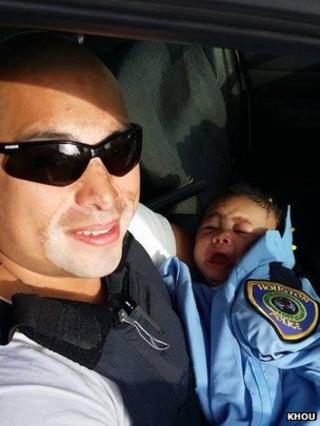 A kidnapped baby has been reunited with its mother after being found by the side of road by a woman out jogging.
Police in Houston searched overnight on Sunday for eight-month-old Genesis Haley after her mother's vehicle was taken as she paid for petrol.
The stolen car was found shortly after the incident but with no baby inside.
But jogger Hong Nguyen called police when she found the little girl crying, still in her car seat, while out running at 08:00 local time on Monday.
Genesis was then handed back to her mother after getting the all-clear at hospital.
"That's my duty as a human being to do that," Ms Nguyen told local broadcaster KHOU. "I can't believe - it was so scary to see that situation."
The Houston police officer that responded said he took the car seat with the eight-month-old inside and carried her out to the open to check for injuries.
"Once I saw that she was moving and appeared OK, I took her out of the car seat, held her, and just tried to console her," Officer Albert Pizana said.
He used his uniform shirt to swaddle her and calm her down.
The search for the suspect continued on Tuesday.