US forces arrive in Baghdad to advise Iraqi troops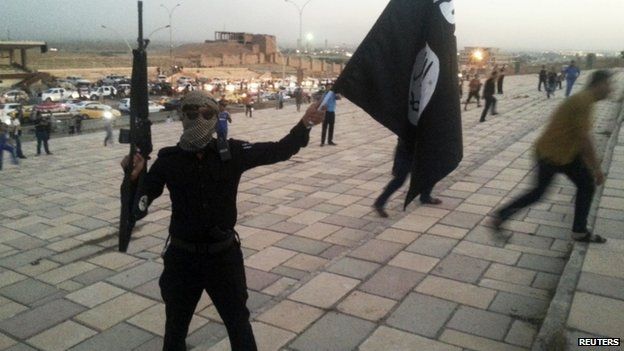 The first US troops deployed to assist the Iraqi army in combating a growing Sunni militant insurgency have arrived and begun work, the Pentagon has said.
Nearly half the 300 special operations soldiers promised by US President Barack Obama are in Baghdad or on the front lines of the fight.
The rest are expected within days.
Also, US Secretary of State John Kerry called for regional unity to expel the Sunni Isis rebels who have taken large swathes of Iraq.
On Tuesday, two teams totalling 40 US troops began work assessing Iraqi troops on the front line, the Pentagon said.
An additional 90 personnel will work in Baghdad to set up a new joint operations command centre.
Those teams will be joined by an additional four teams of 50 troops each in the next few days.
The Obama administration has stressed the troops are not intended as operational forces but instead are there to advise the Iraqis and provide intelligence, reports the BBC's David Willis in Washington.
The Iraqi government had requested American air strikes, but Mr Obama has been reluctant to do anything that could lead to accusations the US was taking sides in a sectarian conflict, our correspondent reports.
The violence has claimed at least 1,075 lives in Iraq in June alone, most of them civilians, a United Nations human rights team has reported.
The UN said the figures, which include a number of verified summary executions, should be viewed as an absolute minimum.
In an interview on Tuesday with the BBC, Mr Kerry called for a "political strategy" and for regional co-operation to resolve Iraq's unrest.
"Every country in the region will combine in order to take on and expel Isis because it is simply unacceptable to have a terrorist organisation grabbing territory and challenging the legitimacy of governments," Mr Kerry told the BBC's Kim Ghattas.
Mr Kerry said the Kurdish leaders had agreed there was "no military solution", but called for "a political solution that deals with empowering the people in the communities where Isis is today".
"Just a strike alone is not going to change the outcome," he said. "You need to have a full-fledged strategy... which is principally a political strategy."
Iraqi Prime Minister Nouri Maliki, a member of Iraq's Shia Muslim majority, has been criticised for concentrating power among his mostly Shia allies and excluding other groups including Sunni and Kurdish communities.
Mr Kerry has been talking to Kurdish leaders in the northern city of Irbil, where the rebels continue to advance and are fighting to take a key oil refinery.
The meetings came as the Kurdish region's President Massoud Barzani strongly suggested that it would seek formal independence from the rest of Iraq.
In a CNN interview, the Kurdish president said, "Iraq is obviously falling apart... The time is here for the Kurdistan people to determine their future and the decision of the people is what we are going to uphold."
But Mr Kerry told the BBC the US believed a "united Iraq is a stronger Iraq".
The rebels say they have now fully captured the country's main oil refinery at Baiji, north of Baghdad.
However, Iraqi officials said there was still fighting at the site and that troops were holding off the insurgents.
The refinery, in Salahuddin province, has been under siege for 10 days, with militant attacks repulsed several times. The complex supplies a third of Iraq's refined fuel and the battle has already led to petrol rationing.
The AFP news agency quoted officials as saying that Iraqi air strikes near Baiji town on Tuesday had killed at least 19 people, with other air strikes on Husseibah in the west.
Reuters quoted Iraqi officials as saying rebels had attacked the huge al-Bakr air base, north of Baghdad.
They are also fighting for control of key border crossings in Anbar province that link Iraq with Syria, pursuing their goal of forming a "caliphate" straddling both countries.
There were conflicting reports over who controlled the Walid border crossing with Syria and the Traybil crossing with Jordan.
On Tuesday morning, Sunni tribes aligned with Isis said they had seized the crossings, but Iraqi military spokesman Lt Gen Qassim Atta told a news conference in Baghdad they had been "fully recaptured" by security forces.