US push to rename Chinese embassy street after dissident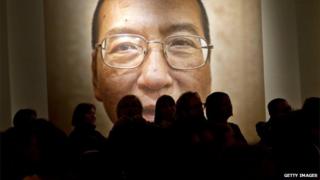 The street holding the Chinese embassy in Washington DC could be renamed after a noted Chinese dissident.
An amendment attached to a state department budget bill would make the embassy's address 1 Liu Xiaobo Plaza.
Liu Xiaobo, a Nobel Peace Prize laureate, is serving an 11-year sentence for subversion in China.
The Chinese foreign ministry has called the proposed change of address - which now requires Congress approval - "nothing more than a sheer farce".
"Some people from the United States have used so-called human rights and the Liu Xiaobo case to engage in this meaningless sensationalism," spokeswoman Hua Chunying told reporters.
The amendment was proposed by Virginia Representative Frank Wolf, who said renaming the street would send "a clear and powerful message that the United States remains vigilant and resolute in its commitment to safeguard human rights around the globe".
Liu Xiaobo was awarded the Nobel Peace Prize in 2010, with the Nobel committee citing his fight for "a more open and democratic China" for more than two decades.
The amendment was attached to the yearly spending bill for the state department, which was approved by a House panel on Tuesday. The bill must still pass both the House and Senate.
In the 1980s, the street in front of the Soviet Embassy in Washington was named after dissident Andrei Sakharov.