Mother blasts police for burned baby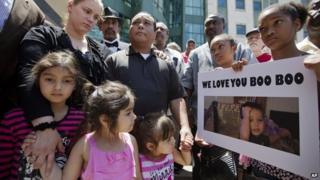 At 3 am on 28 May, gun-wielding police officers burst into a house in Harbersham County, Georgia in search of a man they suspected of being a violent drug dealer. Instead, they found a family of six.
It was a mistake that would have grave consequences.
The residence that county sheriff department officials thought contained 30-year-old Wanis Thonetheva in fact was the temporary home of his aunt and uncle, along with their four children - ages one to nine - who had come to visit after their Wisconsin house had burned down two months earlier.
To execute the court-ordered warrant, police deployed a special weapons and tactics, or Swat, unit - an assault force equipped with body armour and military-style weapons designed for use in high-risk law-enforcement activities.
In an article published by Salon on Tuesday, the aunt, Alecia Phonesavanh, describes what happened as the Swat team conducted its "no-knock" raid of their home:
After breaking down the door, throwing my husband to the ground, and screaming at my children, the officers - armed with M16s - filed through the house like they were playing war. They searched for drugs and never found any.
I heard my baby wailing and asked one of the officers to let me hold him. He screamed at me to sit down and shut up and blocked my view, so I couldn't see my son. I could see a singed crib. And I could see a pool of blood. The officers yelled at me to calm down and told me my son was fine, that he'd just lost a tooth. It was only hours later when they finally let us drive to the hospital that we found out Bou Bou was in the intensive burn unit and that he'd been placed into a medically induced coma.
The Swat officers had used a stun grenade, called a flash bang, as they entered the residence. The device, which creates bright bursts of light and noise to temporarily disorient its targets, landed in 19-month-old Bounkham "Bou Bou" Phonesavanh's playpen, where it burned the child's face and created a gash on his chest deep enough to expose his ribs.
The day after the incident, Habersham County sheriff Joey Terrell described the events to a local media outlet.
An undercover police officer had purchased drugs at the residence the day before the raid, he said, and observed "two guards standing at the door" and no children. Because they suspected Mr Thonetheva of having access to an AK-47 rifle, they requested a Swat team for the raid.
When the police began their late-night assault, he said, their entry point was blocked by the child's playpen, so they pushed the door partially open and tossed in the flash bang.
"Our team went by the book," he said. "Given the same scenario, we'll do the same thing again. I stand behind what our team did... Bad things can happen. That's just the world we live in. Bad things happen to good people… The baby didn't deserve this."
Mr Terrell said drug dealers like Mr Thonetheva should be blamed for these kind of accidents:
This tears our soul out, but we cannot stop standing up and being the thin blue line against those ... who want to do the domestic terrorism and sell dope and make the money. We're still going to stand between them and still do our job - we've got to.
Ms Phonesavanh's lawyer said that Harbersham police is shirking its responsibility in this case, however.
"We believe it is criminally negligent that you come into a home with four children and the person you are looking for isn't even there, and the people who are there aren't involved with drugs," Mawuli Mel Davis told the Atlanta Journal Constitution. "I don't know what kind of surveillance they did, but that can't be the standard."
As protests over police action in the raid grew, state and federal officials announced an investigation into whether the Swat team followed police procedure and whether the family's civil rights were violated.
In her Salon piece Ms Phonesavanh argues that her story is representative of a larger trend in which local police forces have recklessly employed military-style tactics against civilians:
I know that this has happened to other families, here in Georgia and across the country. I know that Swat teams are breaking into homes in the middle of the night, more often than not just to serve search warrants in drug cases. I know that too many local cops have stockpiled weapons that were made for soldiers to take to war. And as is usually the case with aggressive policing, I know that people of colour and poor people are more likely to be targeted.
Ms Phonesavanh cites an ACLU report on "the excessive militarisation of American policing", which found that Swat teams had been used in the US more than 800 times from 2011 to 2012, a majority of which were for drug searches. Since 2010, the report finds, these special units have been involved in seven civilians deaths and 46 injuries.
Ed Pilkington writes in the Guardian that the heavy reliance on military tactics by domestic police forces in the US sets up a "striking and troubling paradox":
The Obama administration is completing its withdrawal from Afghanistan, and the US is on the verge of being free from war for the first time in more than a decade; yet at the same time the hardware and tactics of the war zone are quietly proliferating at home.
Swat-style raids and unjustifiable use of force are a "defining feature" of the war on drugs, says Reason magazine's Jacob Sullum:
These operations are inherently dangerous, especially since armed men breaking into a house while the occupants are sleeping can easily be mistaken for burglars, with deadly consequences for cops, occupants or both. Even when no one dies or suffers serious injuries, Swat raids feature the destruction of property (starting with broken doors and smashed windows), the manhandling and detention of innocent people, and the more-than-occasional killing of beloved family pets. All things to be avoided, you might think, unless absolutely necessary.
For Atlanta residents, the Phonesavanh episode recalls a 2006 case of illegal police behaviour, when a late-night raid resulted in 92-year-old Kathryn Johnston being killed in a shootout with police. The subsequent investigation led to the conviction of three police officers for manslaughter and planting drug evidence at the scene.
Meanwhile, Bou Bou Phonesavanh is no longer in a coma, but he is still undergoing hospital-based rehabilitation. His long-term prognosis has yet to be determined.
Wanis Thonetheva, the original target of the raid, was eventually located and arrested for drug possession. As the Guardian's Pilkington notes, police officers knocked on his door, and he went with them without resistance.