US Appeals Court blocks Utah gay marriage ban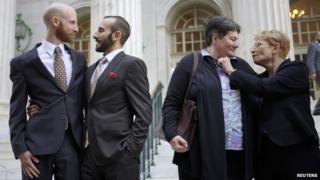 A US federal appeals court has struck down Utah's gay marriage ban, ruling the law unconstitutionally discriminates against same-sex couples.
The three-judge panel of the Denver-based 10th US Circuit Court of Appeals upheld a lower federal court's ruling.
The decision marks the first time a federal appeals court has ruled on same-sex marriage.
Gay-marriage backers have won a series of cases, but the issue is likely to be decided by the Supreme Court.
On Wednesday, the 10th Circuit panel found that US states cannot deprive citizens of the right to marry because they desire to wed someone of the same sex.
It upheld a December ruling of the lower federal district court of Utah.
The appeals panel immediately put its 2-1 decision on hold, however, pending an appeal.
"It is wholly illogical to believe that state recognition of love and commitment of same-sex couples will alter the most intimate and personal decisions of opposite-sex couples," the appeals court judges wrote.
Following the ruling, the Utah attorney general's office announced it planned to appeal against the decision to the Supreme Court.
"Although the Court's 2-1 split decision does not favour the State, we are pleased that the ruling has been issued and takes us one step closer to reaching certainty and finality for all Utahns on such an important issue with a decision from the highest court," the office said.
'Right to marry'
Republican Governor Gary Herbert also wrote he was disappointed by the court's decision and said it should be left to states to determine their own laws on the matter.
If not reversed, the ruling will become law in six states covered by the court: New Mexico, Wyoming, Colorado, Kansas, Oklahoma and Utah.
Also on Wednesday, a federal judge struck down Indiana's ban on same-sex marriage, immediately allowing gay couples to wed in the state.
US District Judge Richard Young ruled the ban violated the Constitution's equal-protection clause.
"Same-sex couples, who would otherwise qualify to marry in Indiana, have the right to marry in Indiana," he wrote.
"These couples, when gender and sexual orientation are taken away, are in all respects like the family down the street. The constitution demands that we treat them as such."
The Indiana attorney general's office has also said it will appeal against the ruling.
Sixteen federal judges have ruled in favour of gay marriage since the US Supreme Court struck down the federal anti-gay Defense of Marriage Act in 2013.
Same-sex marriage is currently legal in 19 states and the District of Columbia.