US halts work for Germany clash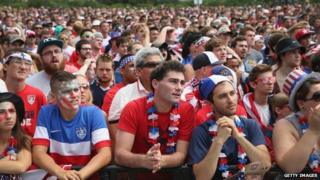 Parts of the US came to a standstill as people took time out from work to watch their team's crucial World Cup match against Germany.
Despite losing 1-0 to one of the giants of world football, USA advanced through the so-called Group of Death to the knock-out stages.
A record 24.7 million Americans tuned in for Sunday's 2-2 draw with Portugal, but Thursday's game was during the day.
USA's German coach, Jurgen Klinsmann, tweeted a "get out of work letter".
"I understand that this absence may reduce the productivity of your workplace but I can assure you that it's for an important cause," he wrote.
In response, New York governor Andrew Cuomo gave state employees an extra hour for lunch.
Some fans took the liberty of taking time off work without authorisation, filling bars, parks and other public viewing areas across the country.
Among up to 500 fans watching the game at The Archway Under Manhattan Bridge in New York's Brooklyn borough was one USA fan, 21 years old, who said he had skipped work to watch the game with his girlfriend.
Around him, chants of "U! S! A! U! S! A!" filled the air and the famous Stars and Stripes were draped over people's shoulders or painted on their faces.
---
At the scene - the BBC's Taylor Kate Brown, Washington DC
On the way to Dupont Circle before the match a restaurant with outdoor seating is blaring Born in the USA, Bruce Springsteen's hit, and every diner is facing the televisions.
The circle itself is half-full but it's packed tight and tough to get a good view of the two large TV screens broadcasting.
There are American flags worn as capes, Lady Liberty foam tiaras, plenty of face paint and not an insignificant number of German flags. The chants are "U! S! A! U! S! A!", "I will believe that we will win", and of course "Ole, ole, ole."
"I started playing soccer when I was five years old," says Gino Gallardo, whose American flag face paint design is cracking in the summer heat. He's convinced he'd still be a fan even if he hadn't played as a child. "It's the world's sport."
---
The USA-Germany match was played in Recife, where American fans continued to offer the vociferous support that has characterised each of their group matches.
Americans have more matchday tickets than any other country after Brazil, according to Fifa, and Facebook has released data which shows the most "check-ins" inside the stadiums came from people from the US.
Football fever has gripped fans at home too, where the largest number ever to watch a football match in the US did so on Sunday evening, when a header from Silvestre Varela in the dying seconds left 24.7 million Americans deflated.
Even after the loss to Germany, American fans remained optimistic about their side's hopes in the World Cup.
"I think the American fans are fired up - even with a loss, we aren't defeated," Ashley Fleming told the BBC in Washington. "We have another chance."
Another local fan named Steven said the surge of interest would last beyond the World Cup.
"Our league is only less than 20 years old - we're still babies in the world of football, but we understand that. But the ones who know, know. And slowly but surely we start to bring on more and more people."