US court rejects New York supersize soda ban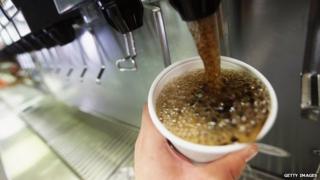 A New York court has refused to reinstate the city's ban on sales of large sugary drinks, a key initiative of ex-Mayor Michael Bloomberg.
The Court of Appeals found the city's Board of Health exceeded its authority by imposing a 16-ounce (0.5l) limit on drinks sold in venues including restaurants and stadiums.
It upheld a lower court decision from 2013 preventing the ban taking effect.
The consumption of such drinks has been linked to a host of health ailments.
On Wednesday, New York state's highest court ruled the mayor-appointed Board of Health overstepped the policy-making authority of the elected City Council.
'Unfair'
"By choosing among competing policy goals, without any legislative delegation or guidance, the board engaged in lawmaking," according to the court's majority opinion.
Mr Bloomberg's Board of Health approved the ban in September 2012, framing it as a tool to combat obesity and the health ailments associated with it.
But critics said it was unfair to businesses and deprived consumers of the right to drink huge sodas.
A spokesman for the American Beverage Association told US media the ban "limited New Yorkers' freedom of choice".
Following the decision, current Mayor Bill de Blasio said the city was "actively reviewing all of its options to protect the health and well-being of our communities".
Mr Bloomberg, who left office in January, called Thursday's ruling "unfortunate".
"More people in New York City will die from obesity-related impacts," he wrote in a statement.
Some vendors, meanwhile, had already adjusted menus in order to comply with the new mandate and continued to sell smaller cups.