Canada high court grants land title to Tsilhqot'in group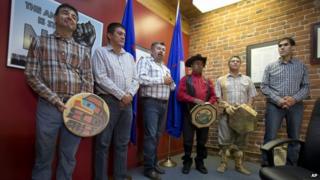 The Supreme Court of Canada has granted the Tsilhqot'in First Nation title to more than 1,700 sq km of its ancestral land in British Columbia.
The 8-0 ruling expands native groups' ability to gain control of traditional land and authority to prevent development there, analysts said.
The Tsilhqot'in, a group of six native bands, said the ruling was a victory in a 150-year fight over the land.
The ruling has wide implications for development in the resource-rich area.
And it could have a dramatic impact on the development of the Northern Gateway pipeline, an oil industry project that will link Alberta's oil sands region to the Pacific Coast, as the pipeline goes through lands claimed by First Nations groups.
The current legal battle dates to 1983, when the province of British Columbia granted a commercial logging licence on land the Tsilhqot'in claimed as their traditional territory, having lived there for centuries, according to the court ruling.
The group objected and sought to prevent the logging.
'Much brighter future'
In 2012, a British Columbia appeals court granted the Tsilhqot'in sweeping rights to hunt and trade in the territory.
But that court stated that the tribes - who lived a semi-nomadic lifestyle - must identify specific sites were its people had once lived rather than assert a broad claim over the entire area.
The Tsilhqot'in appealed, arguing the appeals court's decision failed to recognise the way its members had lived for hundreds of years.
On Thursday, Canada's highest court agreed with the tribes, finding they can claim land even if they used it only some of the time.
"It only took 150 years, but we look forward to a much brighter future," Grand Chief Stewart Phillip, president of the Union of BC Indian Chiefs, told CBC News.