Andrew Wiggins is second Canadian to top NBA draft pick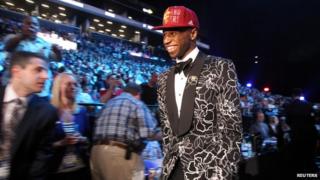 A Canadian player has been selected as the National Basketball Association's (NBA) number-one draft pick for the second year in a row.
The Cleveland Cavaliers picked Andrew Wiggins of Ontario, a first-year student at the University of Kansas.
Wiggins, 19, averaged a university first-year-record 17.1 points per game.
Last year's top NBA pick, Ontarian Anthony Bennett, was injured in 2013 and failed to make an impact in last year's basketball season.
'Dream come true'
"A thousand thoughts are going through my head right now," Wiggins said in New York City following his selection in the NBA's amateur draft.
"It's a dream come true."
Wiggins hails from Vaughan, Ontario and attended high school at Huntington Prep.
In his first season with the Jayhawks he set a single-season scoring record with 597 points.
His mother Marita Payne-Wiggins competed in athletics at Florida State University and for Canada in the 1984 and 1988 Olympics.
His father Mitchell played in the NBA from 1984-92 with the Chicago Bulls, Houston Rockets and Philadelphia 76ers.
Canadian Prime Minister Stephen Harper congratulated Wiggins.
"For the second year in a row, a Canadian is the #1 overall pick in the NBA draft," he wrote on Twitter.
Last year's top NBA draft pick was also chosen by the Cleveland Cavaliers.
Bennett played at the University of Nevada, Las Vegas, for one year before entering the NBA draft.
He attended high school in West Virginia and Nevada in the US, and also played for Canada's junior national team.