Landmines: US tells Mozambique summit of ban plans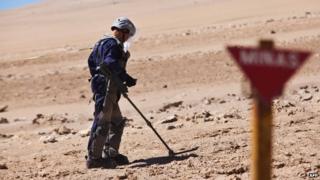 The United States says it will no longer produce or buy any anti-personnel landmines.
A White House statement also said it would not seek to replace expiring stockpiles of the weapons.
The announcement came at a conference in Mozambique on the Ottawa Convention, a UN treaty banning landmines. The White House says it is moving towards signing the pact.
But critics accuse the US of not going far enough.
They say it should ban landmine use immediately, commit to a target date for joining the UN treaty and destroy its existing stocks.
Several other world powers, including Russia and China, have also not signed the convention.
'Out of the shadows'
"Today at a review conference in Maputo, Mozambique, the United States took the step of declaring it will not produce or otherwise acquire any anti-personnel landmines (APL) in the future, including to replace existing stockpiles as they expire," National Security Council spokeswoman Caitlin Hayden said in a statement.
She said the US was "diligently pursuing solutions that... ultimately allow the United States to accede to the Ottawa Convention", but did not make clear when this might happen.
The US has provided more than $2.3bn (£1.4bn, 1.7bn euros) in aid since 1993 in more than 90 countries for the destruction of conventional weapons, the spokeswoman added.
Steve Goose, arms director at campaign group Human Rights Watch, welcomed the US move to "come out of the shadows" and indicate its intention to join the landmine treaty.
But he said: "The US should set a target date for joining the Mine Ban Treaty, should commit to no use of the weapons until it accedes, and should begin destruction of all its stockpiles."
The number of people killed or maimed by landmines fell to 3,628 in 2012, down from 4,474 in 2011, according to the watchdog Landmine and Cluster Munition Monitor.
The rate of casualties has decreased 60% since the Ottawa Convention came into force in 1999.
Mozambique was left with an estimated three million unexploded mines after its 1977-1992 civil war, but is now seen as an example of successful clearance.
The country has set a deadline of the end of 2014 to be free of all known mines.