Wisconsin Slenderman stabbing schoolgirl 'incompetent'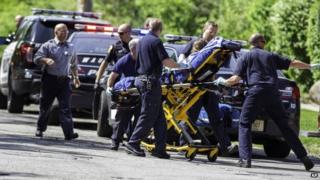 One of the two girls accused of stabbing a Wisconsin classmate in order to please an online fictional character has been deemed incompetent by doctors.
A competency hearing was subsequently ordered by a judge on Wednesday in the trial of Morgan Geyser, 12.
She and classmate Anissa Weier, 12, have been charged with attempted murder and face up to 60 years in prison.
The victim was stabbed 19 times in "dedication" to Slenderman, a fictional character on the website Creepypasta.
Judge Michael Bohren ordered a competency hearing for Morgan Geyser - currently scheduled for 1 August - after experts found she was mentally incompetent to proceed with her defence.
"This is all part of the process, looking at the mental health, looking at her functioning competency and issues like that," her lawyer, Anthony Cotton, told reporters.
'Horror'
The two juveniles are currently being tried as adults for the crime.
The unnamed victim, also 12, was reportedly found by a cyclist on 31 May after crawling from the woods where she was attacked with stab wounds to her arms, legs and torso.
She is now said to be making a stable recovery.
Both suspects were later found walking near a local highway, and a knife was found in one of the girls' backpacks, police said.
According to police, the girls planned to stab the classmate during a sleepover but instead decided to commit the crime the next morning in a nearby park.
Following their arrest they told investigators about their belief in paranormal figure Slenderman and their desire to become his "proxies" by killing to demonstrate their loyalty, police said.
After the murder, they reportedly intended to walk to Slenderman's mansion, which they believed was situated in Wisconsin's Nicolet National Forest.
The operator of Creepypasta issued a statement following the arrest, extending condolences to the families involved but adding it was not "the fault of Slenderman or horror writing in general that this happened".