Rob Ford: I've used nearly all drugs, says Toronto mayor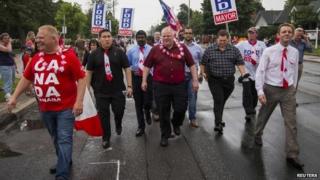 Toronto Mayor Rob Ford has told Canadian media he was "born an alcoholic" and had used "every drug you can probably think of".
But the mayor refused to say if he would step down if he abused drugs or alcohol again.
The interviews come as Mr Ford returned to work earlier this week after attending a rehab programme.
He is seeking re-election in October, saying it is up to voters whether he remains mayor.
Mr Ford told broadcaster CBC his use of drugs precedes his time as mayor and ran the "full gamut".
He later told CP24 he had never used heroin, but had used marijuana and hallucinogenic mushrooms in addition to crack.
When asked by the Toronto broadcaster if he would quit if he used drugs again, he stressed he would be receiving treatment "for the rest of my life" and was taking it one day at a time.
"I know I didn't drink yesterday, and I know I haven't drank today," Mr Ford said.
He told CBC his substance-abuse was behind homophobic and sexist comments he had made.
"I think that goes along with having this disease," Mr Ford told the broadcaster. "You do things, you say things that aren't you. I take full responsibility. All I can do is apologise and deal with this disease."
The Toronto politician has been stripped of many of his powers after admitting using and buying illegal drugs while mayor.
Two main challengers, Conservative businessman and broadcaster John Tory and former New Democratic Party member of parliament Olivia Chow, are vying to replace him as mayor in the 27 October election.