Hurricane Arthur loses strength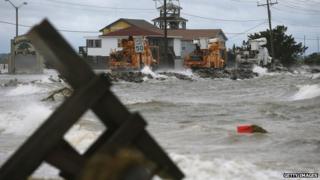 Hurricane Arthur has weakened in strength after hitting North Carolina's barrier islands overnight, causing thousands of homes to lose power.
The US National Hurricane Center said the maximum sustained winds dropped to 90mph (145km/h) as it pulled away from North Carolina and moved offshore.
It was downgraded to a Category One storm on Friday morning.
Thousands of people were forced to abandon their 4 July plans and there are now flooding fears.
Towns all along the state's coast have rescheduled Independence Day events and fireworks, and some cities further north up the East Coast held their festivities a day early.
The storm is expected to arrive in Nova Scotia, Canada, on Saturday after first passing east of New England.
At its peak, winds of 100 mph caused power cuts in 20,000 homes as Arthur came ashore at 23:15 local time (03:15 Friday GMT) over the southern end of the Outer Banks, which are a 200-mile string of narrow barrier islands.
At the time, Robin Nelson, who lives with her husband and two sons in Newport, was speaking on the phone to CNN and she described how her house - in the path of the eye of the storm - clattered in the winds.
"It's howling pretty good here," she said. "You can hear it coming across the sound."
Most of the power cuts were in Carteret County, but power was restored to 4,000 households by daybreak. There were fierce winds and horizontal rain.
The National Hurricane Center said the first hurricane of the Atlantic season had caused powerful tidal surges and dumped 15cm (6ins) of rain.
There have been no reports of major structural damage so far.
The islands are susceptible to high winds, rough seas and road-clogging sands, prompting an exodus that began on Wednesday night.
Thousands left the area, and ferries and highways were packed.