US billionaire Richard Mellon Scaife dies aged 82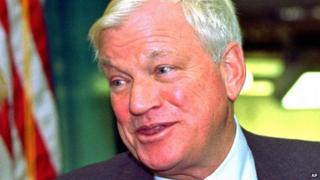 US billionaire publisher and influential conservative Richard Mellon Scaife has died aged 82.
His death comes less than two months after he had announced he had an untreatable form of cancer.
The heir to the Mellon banking and oil fortune, he helped finance the election campaigns of Republican Presidents Richard Nixon and Ronald Reagan.
Mr Scaife also backed inquiries in the 1990s to discredit the then Democratic President, Bill Clinton.
Ms Scaife died early on Friday at his home, his newspaper - the Pittsburgh Tribune-Review - reported.
It said his death came just just one day after his 82nd birthday, without providing further details.
Mr Scaife was an ardent supporter of right-wing causes, contributing hundreds of millions of dollars to think-tanks, lobbyists and conservative newspapers and magazines.