Family of punched woman to sue California police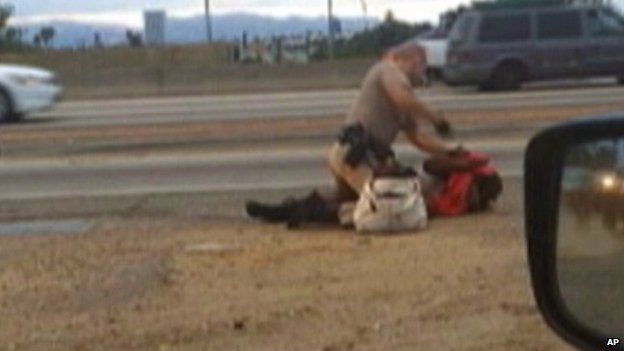 The family of a woman who was repeatedly punched in the face and head by a policeman has said they will sue on her behalf, local media report.
Footage posted on YouTube last week shows a California Highway Patrol (CHP) officer straddling the woman and hitting her at least 11 times.
The CHP says they are investigating and have suspended the officer.
Civil rights groups say they are set to meet police officials on Monday.
Earl Ofari Hutchinson, president of the Los Angeles Urban Policy Roundtable told the Los Angeles Times he wanted to see an independent justice department investigation.
Police have said the woman was endangering herself and motorists walking on the shoulder of a busy highway in the west of Los Angeles.
A video of the incident was captured by passing motorist David Diaz, who told the Associated Press news agency the officer arrived as the woman was walking off the highway, but she turned around after the officer shouted something to her.
"He agitated the situation more than helped it," said Mr Diaz, who started filming soon after.
When the recording starts, the officer is seen trying to detain the barefooted woman, who walks a few steps away from him.
But the officer is seen forcing her to the ground, briefly struggling with her before repeatedly punching her. A few moments later, a plainclothes officer enters the picture and helps his colleague put the woman in handcuffs.
The woman is being treated in hospital and undergoing psychiatric evaluation. She has been named as Marlene Pinnock, 51, by local media but not officially identified,
On Sunday, Ms Pinnock's family told reporters she was a "loving" and "happy" great-grandmother, and they would be filing a civil rights lawsuit.
Caree Harper, a lawyer for the woman's family, refused to say why she was walking the freeway, saying nothing would justify the beating she received.
"We are not going to let this woman be on trial," Ms Harper told the Los Angeles Times.
CHP officials say an internal probe of the officer's actions is under way and he is on administrative leave.
"We are known as an agency that really polices itself," CHP Assistant Chief Chris O'Quinn said.
Mr Hutchison, who is expected to join a meeting of civil rights groups and CHP this afternoon, did not disagree during a news conference of local leaders.
"Over the years, CHP has had a very good track record in terms of community relations," he said. "That's why this was so shocking."