Obama requests $3.7bn to fix border crisis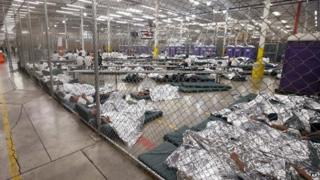 President Barack Obama has asked Congress for $3.7bn (£2.2bn) in extra funding to tackle an immigration crisis at the southern border.
More than 50,000 unaccompanied children - most from Central America - have been caught trying to cross illegally between October and 15 June.
The move comes amid Congressional gridlock over a wide-reaching bill to overhaul the immigration system.
Mr Obama is set to meet local leaders in Texas over the issue on Wednesday.
But he has been criticised by members of both parties about not visiting the border personally during a primarily political fundraising trip to the southern state, which shares a lengthy border with Mexico.
Among those invited to attend the meeting is Texas Governor Rick Perry, who has opposed Mr Obama on the immigration issue and refused to greet him at the airport.
Mr Perry's spokeswoman Lucy Nashed confirmed the president and governor will meet, saying Mr Perry is "is pleased that President Obama has accepted his invitation to discuss the humanitarian and national security crisis along our southern border".
The emergency funding would include money for the hiring of 40 extra immigration judge teams, drone surveillance of the border, medical services and transportation costs, expanding a border security task force in Central America and overtime for border patrol workers.
"Without supplemental funding, absent undertaking extraordinary measures, agencies will not have sufficient resources to adequately address this situation," the White House said in a statement.
US media report that the White House is pursuing a separate legislative action to speed up the deportation processes.
The administration has told Congress it was seeking "additional authority" to allow the Homeland Security secretary to more quickly return the minors back home.
But immigration advocates fear this means children would lose the automatic right to a hearing before an immigration judge, and instead would have to go through an initial screening with US Border Patrol.
More than 200 groups signed a letter last week calling on Mr Obama to reconsider.
---
Where the $3.7bn will go
$1.8bn to provide the appropriate care for unaccompanied children
$1.1bn on detention and removal programmes
$433m on border patrol and security
$300m to Central American countries to repatriate and tackle root causes
$64m on immigration courts, including hiring 40 additional judge teams
Source: White House
---
Many of the recent arrivals are from Honduras, Guatemala and El Salvador, which have seen a recent spike in gang violence.
A 2008 law intended to combat human trafficking requires all children not from Mexico or Canada to have an immigration hearing instead of being sent back immediately.
On Monday, White House spokesman Josh Earnest said the White House believes most of the children arriving illegally will not have successful asylum cases.
"It is unlikely that most of these kids will qualify for humanitarian relief," Mr Earnest said.
"And what that means is, it means that they will not have a legal basis for remaining in this country and will be returned."
Republicans have blamed the surge of illegal crossings on an Obama administration policy that allows certain people who had arrived illegally as children to avoid deportation.
But children arriving now are not eligible for this programme and would need to have a successful asylum application in order to stay.
The Obama administration is making the appeal as legislators return from a week-long holiday recess, but it is unclear how they will react to the request.