Eric Holder of US warns Europe over Syrian fighters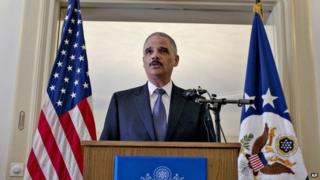 The US attorney general has called on European governments to be stronger in preventing their own citizens from joining the fighting in Syria.
Eric Holder said the Syrian conflict had turned into "a cradle of violent extremism" that could threaten Western countries when fighters return home.
He made his remarks during a speech for Norwegian diplomats in Oslo.
US officials believes there are about 7,000 foreign fighters in Syria, including dozens of Americans.
In May, a 22-year-old man from Florida carried out a suicide bombing mission in the country.
And a Colorado woman was arrested at the airport in April after US officials said she was intent on providing support to the militant group Isis (Islamic State in Iraq and the Levant) in Syria.
In the speech, Mr Holder called on European governments to make it illegal to plan or support terrorist plots, catch potential fighters before they leave for Syria through undercover plots and share information about those who have travelled to Syria to fight, including through Interpol.
"Because our citizens can freely travel, visa-free, from the US to Norway and other European states - and vice versa - the problem of fighters in Syria returning to any of our countries is a problem for all of our countries," Mr Holder said.
Because the threat was spread across Western nations, Mr Holder said, Europeans governments needed to be proactive and collaborate with each other on the issue.
"If we wait for our nations' citizens to travel to Syria or Iraq, to become radicalised, and to return home, it may be too late to adequately protect our national security," the US top lawyer said.
The speech at the US embassy comes as the US has announced it will step up security at some European airports with flights to the US.
American intelligence officials told the Associated Press news agency they believe bombmakers from al-Qaeda in the Arabian Peninsula and ISIS have begun developing explosives that could evade current airline security measures.