'Forgotten' US smallpox vials found in cardboard box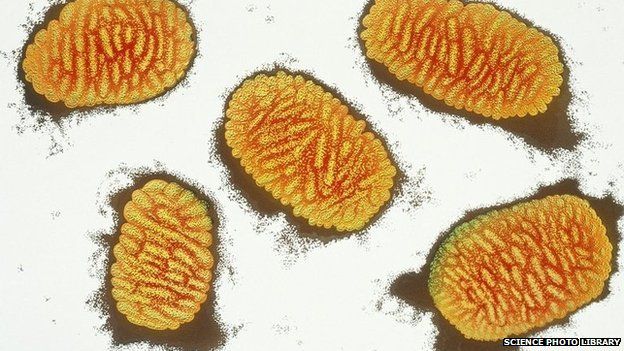 Long forgotten vials of smallpox left in a cardboard box have been discovered by a government scientist at a research centre near Washington, officials say.
The virus, believed dead, was located in six freeze-dried and sealed vials, according to the Centers for Disease Control and Prevention (CDC).
It is said to be the first time unaccounted-for smallpox has been discovered in the US.
The disease was officially declared eradicated in the 1980s.
"The vials appear to date from the 1950s. Upon discovery, the vials were immediately secured in a CDC-registered select agent containment laboratory in Bethesda, [Maryland]," according to a CDC statement.
"There is no evidence that any of the vials labelled variola has been breached, and onsite biosafety personnel have not identified any infectious exposure risk to lab workers or the public," the statement added.
Government agencies were notified of the discovery on 1 July, after National Institutes of Health (NIH) employees discovered the vials labelled "variola", also known as smallpox.
The vials were located in an unused area of a storage room in a Food and Drug Administration laboratory on an NIH campus in Bethesda.
The vials were subsequently transported to a secure facility in Atlanta, Georgia, on 7 July.
Tests will be conducted on the material to determine if it is viable before it destroyed, the CDC said.
The virus may remain deadly even after freeze-drying, though is it typically kept cold to remain alive.
The CDC also notified the World Health Organization (WHO) of the discovery. The WHO currently oversees two designated repositories for smallpox; one in Atlanta as well as one in Novosibirsk, Russia.
It is the not the first time vials of smallpox have been unexpectedly discovered. Several were found at the bottom of a freezer in Eastern Europe in the 1990s, according to media reports.
Related Internet Links
The BBC is not responsible for the content of external sites.