Utah woman killed babies for 'interfering with addiction'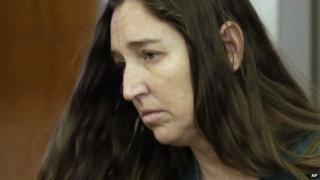 A Utah woman accused of killing six of her own babies did so because they were interfering with her drug addiction, police have said.
Megan Huntsman, 39, was a heavy methamphetamine user during the decade in which she gave birth.
She was arrested in April after their bodies were discovered in cardboard boxes at her former house.
All of the children found - including a seventh stillborn baby - were fathered by her estranged husband.
Darren West, who police say is not a suspect, called police after he found the first body in the garage
Pleasant Grove Police Captain Mike Roberts said Ms Huntsman was not worried about potential health problems to her unborn children caused by her drug use.
"It was completely selfish," he said. "She was high on drugs and didn't want the babies, or the responsibility."
Mr Roberts told the Salt Lake Tribune the cost of the drugs was a factor, saying she had alluded to spending choices she was facing during interviews with police.
She remains in jail in lieu of $6m (3.5m) bail, charged with six counts of murder. Police previously said Ms Huntsman had admitted to killing the children shortly after their birth by suffocation or strangulation.
She has not entered a plea and her defence lawyer has refused to comment.
Investigators are still trying to understand how Mr West was not aware of the pregnancies or the deaths, but Mr Roberts said he is not a suspect in the case.
Mr West lived with Ms Huntsman during the decade their children were killed before going to federal prison from 2006-2014 for possessing chemicals intended to be used in manufacturing methamphetamine.
He was retrieving some of his belongings from the house after leaving prison when he found one of the deceased babies.
Ms Huntsman had moved out of the house around three years ago. She had three daughters, a teenager and two adults, who had continued to live there.
They did not seem to know their mother was pregnant or notice anything suspicious, neighbours said.