Murder charges in deaths of six Texas family members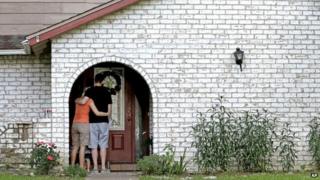 A man accused of shooting dead a family of six, including four children, near Houston has been charged with multiple counts of murder.
Ronald Lee Haskell, 33, gave himself up to police late Wednesday following a chase and a three-hour stand-off.
A 15-year-old is also in a critical condition after being shot in the head, but was able to direct police to him.
Police earlier identified Mr Haskell as the father of the children, but have corrected that report.
Harris County Constable Ron Hickman said the adults killed were the children's parents and Mr Haskell was estranged from a woman related to the couple.
"I have not personally in 40 years seen a tragedy in one family that is this horrific," he said.
Calling while shot
Police had been called to a house about 18:00 (23:00 GMT) and found three children and two adults dead, a Harris County Sheriff's Office statement said.
A fourth child died in hospital. Those killed were two boys ages four and 14, two girls seven and nine and their parents. They have not yet been identified.
Mr Hickman said Mr Haskell had allegedly persuaded the children he was a FedEx parcel delivery man to gain access to their home in Spring, Texas. He was wearing a shirt with the company's logo.
He then "gathered up the children that were here and awaited the arrival of the parents", Mr Hickman told reporters.
In a statement, the parcel firm said Mr Haskell "formerly provided service" for the company, but had not done so since January.
The injured 15-year-old daughter of the couple then called police, telling them the gunman was en route to shoot other members of their family.
She was in a critical condition in hospital on Thursday.
Police earlier described the shooting suspect as a man in his 30s with a beard who was "cool as a cucumber".
When approached by officers he was "just sitting in his car looking out at us," said Sgt Thomas Gilliland.
There followed "hours of constant talking with a man armed with a pistol to his head and who had just killed six people", he added.