US black female gold Olympian Alice Coachman Davis dies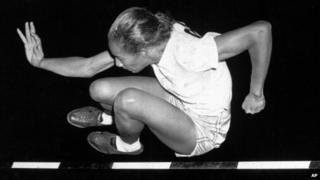 The first black woman to win an Olympic gold medal, Alice Coachman Davis, has died in the US at the age of 90.
A US track and field legend, she set a new Olympic record, winning gold in the high jump at the 1948 London Games.
She died in hospital near her home in Albany, Georgia, on Monday, three months after suffering a stroke.
Ms Coachman's athletic achievements pre-dated the civil rights era, which meant she was barred from public sports facilities because of her colour.
She won her first national title at 16 and went on to win 25 track and field championships before retiring, aged 25, after winning the Olympic gold medal.
She was inducted to the USA Track and Field Hall of fame in 1975 and the US Olympic Hall of Fame in 2004.
Olympic historian David Wallechinsky said that on her return home to Georgia from London, she was honoured with a long motorcade.
However, the black and white audiences were segregated at her official ceremony in Albany.
In the 2004 interview on her career, Ms Coachman reflected that she could have won even more Olympic medals, but the Games were not held in 1940 or 1944 because of World War Two.
"Alice Coachman Davis has inspired generations of athletes to be their best and she will be missed," US Olympic Committee CEO Scott Blackmun said in a statement.