Crowley: Israel and Palestinians increasingly disillusioned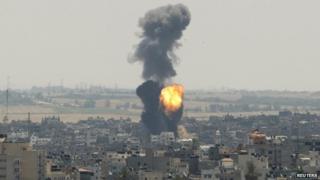 Israel and Hamas will agree to a ceasefire sometime soon, ending their third open military confrontation in the past five and a half years. Then what?
While crises can create opportunities, that is unlikely in this running battle.
Given the absence of a political solution to the underlying tensions that feed this ongoing struggle, the existing cycle of rocket launches and military retaliation will resume months or years from now.
There are solutions to this dangerous and depressing status quo, but no key player has the political incentive, desire or will to change it.
Start with the direct protagonists. The spark involved the killing of three Israeli teenagers, which Israel blamed on Hamas and saw it arrest hundreds of members of the group in the West Bank; and the apparent revenge killing of a Palestinian teenager, for which six Jewish suspects have been arrested.
Both communities reacted with anger and shock, although it could have been a lot worse.
But there are broader agendas in play that will impact calculations regarding a ceasefire, which side gained, which side lost and what happens - or not - going forward.
Israel's situation is the easiest to understand. Once Hamas unleashed hundreds of rockets, even if most were neutralised by the Iron Dome missile defence system, a decisive Israeli military response was inevitable.
Civilians have been killed and uprooted. Infrastructure has been damaged.
But given the asymmetry built into the conflict, a professional military responding to an irregular force within a limited urban space, the Israeli response has been cautious and relatively restrained.
Critically, Israel and Prime Minister Benjamin Netanyahu have avoided, at least for now, getting sucked into a ground campaign in Gaza.
Hamas has again played the only high card it has in an otherwise weak hand. Its strategic position has declined decisively from where it was one, three and seven years ago.
It lost a key advocate last year with the overthrow of Egyptian President Mohammed Morsi. It lost a key defender when it backed the Syrian opposition against Syrian President Bashar al-Assad.
It has lost significant support among Palestinians with its ineffective stewardship of Gaza since its takeover in 2007.
Hamas decided to join a unity government earlier this year with its political rival, Fatah, out of fear it would lose further political ground.
If it can gain some relief from the Israeli embargo of Gaza and Egyptian border restrictions, it can say it achieved more in the past week than Palestinian President Mahmoud Abbas did in the most recent nine-month negotiation with Israel.
That is a problem for Mr Abbas, again a spectator on the West Bank, as the conflict unfolded in Gaza.
Mr Abbas' motivation in forming a unity government with Hamas was to get back to elections and strengthen the political legitimacy of the Palestinian Authority, hopefully from his standpoint in Fatah's favour.
That strategy has likely been derailed by this latest crisis.
After Gaza, Abbas may feel the need to do something. He has cards to play at the United Nations, which will be popular but spark sharp rebukes from Israel and the United States.
Given the total lack of rapport and trust between Mr Abbas and Mr Netanyahu, Mr Abbas could throw up his hands and retire, a step he has threatened to take before.
What distinguishes this Gaza conflict from its predecessors in 2008 and 2012 is it's not the only war in the neighbourhood or even the most serious, given the tragedy in Syria and its escalation into nearby Iraq.
Several regional countries that would otherwise be putting pressure on the international community and the United States to respond to the Palestinian plight are preoccupied with other priorities.
One of them is the regional impact of Iran, a growing concern much of the Arab world shares with Israel.
The most recent outbreak of violence redeems the decision by Secretary of State John Kerry to reengage in peace negotiations last year, talks that collapsed in April. The United States is right to say the status quo is unsustainable, but it has no real ability to change it if the Israelis and Palestinians won't.
And they won't. Positions regarding the crucial regional issues inherent in the conflict - the borders of a Palestinian state and nature of an Israeli state; rising expectations on one side and the grinding reality on the other; and mutually exclusive definitions of security, acceptance, justice and dignity - will certainly harden on all sides.
The greatest danger from this latest episode is not a third intifada, but deeper disillusionment among the Israeli and Palestinian populations, communities that know less about each other than they did a decade ago.
In the abstract, they still support a two-state solution. But they no longer believe it will actually happen, that the other side wants peace; that they have anything to lose.
This is the environment that produces the killers of Eyal Lifrach, Naftali Frankel, Gil-ad Shaar and Muhammad Abu Khdair, fuels Hamas' rockets and starts the vicious cycle turning yet again.
PJ Crowley is a former US assistant secretary of state and now a professor of practice and fellow at The George Washington University Institute of Public Diplomacy & Global Communication