Ex-Taliban captive Bowe Bergdahl keeps civilian lawyer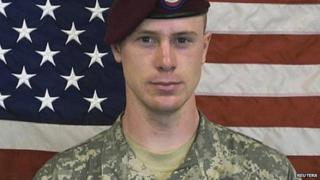 Ex-Taliban captive Bowe Bergdahl has retained his lawyer as the US Army continues to investigate his disappearance from a military base in Afghanistan in 2009.
Eugene Fidell, a civilian Yale law professor, told US media he met the soldier in Texas last week.
Mr Fidell will reportedly be present when Sgt Bergdahl is questioned on whether he intended to desert his unit.
The soldier was held for five years by the Taliban and released in May.
'Extraordinary ordeal'
"I was very flattered when I was approached and I accepted the case with great pleasure," Mr Fidell told CNN on Wednesday.
"[Sgt Bergdahl has] gone through an extraordinary ordeal," he added. "He's lost five years in the most unspeakable way."
Mr Fidell also said he had a "cordial conversation" with Gen Kenneth Dahl, the leader of the Army's investigation into the circumstances surrounding Sgt Bergdahl's disappearance.
Sgt Bergdahl was released in May in a swap for five Taliban commanders from Guantanamo Bay, a move some US politicians decried.
The US military earlier concluded he walked away from his base without authorisation before his capture, but have thus far stopped short of accusing him of desertion.
Investigators have refrained from interviewing the soldier until it is determined that he has completed the reintegration process.
Earlier this week, military officials announced that Sgt Bergdahl was set to return to active military duty and will take an administrative job on a Texas base.
He will take a job "commensurate to his rank" at US Army North at Joint Base San Antonio-Fort Sam Houston and live in officer quarters there, a base official told the BBC.