California death penalty delays 'violate Constitution'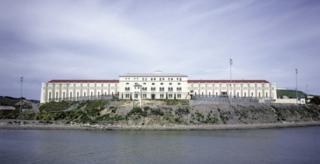 California's death penalty has been ruled unconstitutional and described as "dysfunctional" by a federal judge.
It follows a similar ruling in Northern California that has kept the death penalty on hold since 2005.
Death sentences in California are in reality "life in prison, with the remote possibility of death", said US District Judge Cormac Carney.
The long delays and uncertainty violate the Constitution's ban on cruel and unusual punishment, he concluded.
In making his ruling, Mr Carney annulled the death sentence of Ernest Dewayne Jones, who was condemned to death nearly two decades ago for the rape and murder of a 50-year-old accountant.
Mr Carney said that more than 900 people had been sentenced to death in the state since 1978 but that only 13 had been executed.
"Inordinate and unpredictable delay has resulted in a death penalty system in which very few of the hundreds of individuals sentenced to death have been, or even will be, executed by the State," he wrote in his ruling.
"Arbitrary factors, rather than legitimate ones like the nature of the crime or the date of the death sentence, determine whether an individual will actually be executed."
Mr Carney's ruling can go to appeal at the US 9th Circuit Court of Appeals.
Lara Bazelon, of Loyola Law School's Project for the Innocent, which campaigns for people wrongly convicted, called the ruling a watershed.
If Mr Carney's ruling is upheld at the appeals court, it could end capital punishment in California, a system that has been approved by voters three times - in 1972, 1978 and in 2012.
Those votes don't make any difference, said Ms Bazelon. "That is a state voter decision and he is a federal judge and he interprets federal law - his decision trumps the will of the voters."
But the Supreme Court could step in and overturn any decision by the 9th Circuit Court of Appeals.
The latest ruling follows one by another federal judge in California who found lethal injection procedures required an overhaul because there was a high risk an inmate would experience extreme pain during execution.
The new procedures installed, including a new execution chamber, have yet to be approved.
Lethal injections in the US have drawn significant criticism in recent months, after an inmate in Oklahoma took 43 minutes to die during a botched execution.
That led US President Barack Obama to call for a review of the problems surrounding the application of the death penalty.
US states have had increasing trouble in recent years finding drugs to use in executions, amid an embargo from the European Union.