Washington DC marijuana decriminalisation law takes effect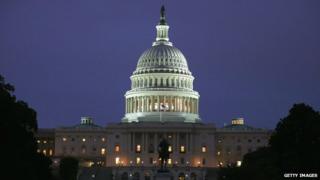 Washington DC has ended criminal penalties for possession of small amounts of cannabis, giving the US capital one of the most liberal marijuana laws in America.
Beginning on Thursday, people caught with less than one ounce (28g) will be assessed a $25 (£15) civil violation, akin to a ticket for littering.
It remains a crime punishable with jail to sell cannabis or smoke it in public.
The new law was intended to ease racial disparities in marijuana arrests.
When they passed the law in the spring, Washington DC city councillors noted that surveys show white and black people smoke marijuana at roughly the same rate, but in Washington DC black people were far more likely to be arrested and jailed for marijuana possession.
Washington DC is not a state, and under the terms of the city's charter its laws are subject to review by Congress. At midnight on Thursday, the mandatory 60-day review period expired without Congress taking action, allowing the decriminalisation ordinance to take effect.
Formerly, possession of less than an ounce of marijuana was punishable by up to six months in jail and a fine of $1,000.
Washington DC joins nine states in which possession of marijuana is treated as a civil, non-criminal offence, according to the Norml, a marijuana reform group.
In five other states marijuana possession is a misdemeanour punishable only by a fine. Alaska imposes no penalty at all for small amounts of marijuana, and the drug is legal in Washington state and Colorado.