Three dead in 'violent' California bank heist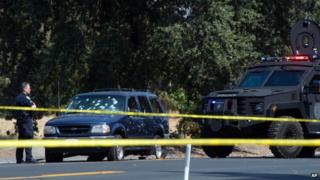 A violent police chase through three cities following a bank robbery in California left two gunmen and a female hostage dead, police have said.
Three armed robbers shot as many 14 police cars and took three hostages during the Wednesday ordeal.
Authorities later identified the deceased suspects as gang members.
The third suspect, 19-year-old Jaime Ramos, was taken into custody on charges of kidnapping, robbery and attempted murder.
Stockton Police Chief Eric Jones described the scene as "chaotic" and "fluid" on Wednesday.
"[It was] really one of the most dangerous, tense situations that a police officer could go through," he told reporters. "The gunfire on our officers was relentless."
Assault-style weapon
Officers responded to reports of a robbery at a Bank of the West branch on Wednesday afternoon and saw three suspects take three hostages at gunpoint.
The suspects stole a vehicle from a bank worker and led police on a chase, later throwing two of the female hostages from the automobile.
One of the hostages was taken to hospital with a gunshot wound, while the other suffered a grazing bullet wound, US media report.
The suspects fired on officers with an assault-style rifle, hitting police cars and multiple homes in their path.
The stolen vehicle's tires were later shot and the vehicle stopped at an intersection, and gunfire was exchanged.
A third hostage, said to be a female bank customer, and one of the suspects were found dead inside the vehicle.
The other two suspects were taken to hospital with gunshot wounds. One later died.
Authorities have yet to identify the two deceased suspects, but have said they are male Stockton residents ages 30 and 27.