Canadian Senator Mike Duffy faces fraud charges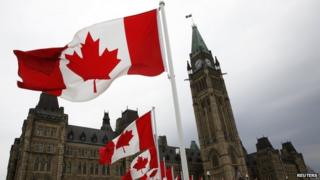 Canadian authorities have laid 31 charges including bribery and fraud against a senator, the latest turn in an ongoing housing expenses scandal.
Senator Mike Duffy is accused of misusing funds from consulting contracts and accepting a payment from an aide to PM Stephen Harper.
He was suspended from the Conservative caucus last fall.
Authorities say he improperly claimed expenses related to a home in Ottawa, where the Senate sits.
The charges include fraud, breach of trust, bribery of a judicial official and frauds on the government. Mr Duffy is to appear in court on 16 September, the Royal Canadian Mounted Police (RCMP) said.
In a statement on Thursday, the RCMP said over the past year investigators had pursued four lines of inquiry against Mr Duffy, including:
Improper expenses related to the residence in Ottawa
Claiming reimbursement for expenses unrelated to Senate business
His alleged awarding of consulting contracts and using funds from the contracts for his personal gain
A 90,000 Canadian dollar ($83,747; £48,960) payment to Mr Duffy made by Mr Harper's former chief of staff, Nigel Wright, for the purpose of repaying the government for improperly claimed expenses
'Full story'
Mr Duffy's lawyer, Donald Bayne, told CBC.com his client was not guilty of the charges against him.
"We are confident that when the full story is told, as it will be, and shown to be supported by many forms of evidence, it will be clear that Senator Duffy is innocent of any criminal wrong-doing," he said.
Canadian senators are appointed by the governor general of Canada - the Queen's representative - on the advice of the prime minister. They typically join either the government caucus or the opposition caucus, or sit as independents.
At the heart of the matter is an accusation Mr Duffy sought reimbursement for living expenses associated with a second home in Ottawa - he represents a constituency in Prince Edward Island and claims a cottage there as his permanent residence.
But authorities say he in fact lived full time in Ottawa and was thus ineligible for reimbursement for expenses associated with the residence.
Mr Duffy argues the expense claims were within government guidelines for the reimbursement of senators who live outside Ottawa but must maintain a second home there.
And authorities say Mr Duffy sought and received C$90,000 from Mr Wright in order to repay the government. Mr Duffy has said Mr Wright gave him the money in an effort to stanch the negative publicity associated with the matter.
Mr Wright later resigned his post.
Mr Harper has denied involvement in the affair, telling the House of Commons he had been unaware of Mr Duffy's activities.