Homeless man denies Arizona priest killing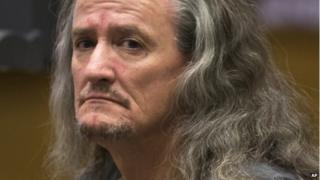 A homeless man charged with killing a priest in an attack on a Roman Catholic church has pleaded not guilty.
Gary Michael Moran is accused of fatally shooting the Reverend Kenneth Walker, 28, and severely beating the Reverend Rev Joseph Terra, 56.
The attack occurred on 11 June at the Mother of Mercy Mission in Phoenix.
Moran was previously sentenced to more than four years in prison for misconduct involving weapons, and was also convicted in two 1989 burglaries.
He appeared in a wheelchair at the plea hearing in a Phoenix court on Thursday.
Police have claimed Moran bragged about beating and robbing a priest, and an unidentified woman told authorities the suspect gave her a bag containing a camera which belonged to one of the victims.
Father Terra, who administered last rites to Father Walker, called authorities to report a burglary at the Mother of Mercy Mission on 11 June.
Police later said Father Terra was so badly beaten it was feared he would not survive, but he was later transferred out of a hospital intensive care unit and is expected to make a full recovery.
A car belonging to Father Walker was later found abandoned several blocks from the church after the crime.
Authorities said they were able to recover forensic evidence from the automobile.
Moran was arrested four days after the attack, and authorities say his DNA is a match for samples collected at the crime scene.
He is next scheduled to appear in court on 2 September.